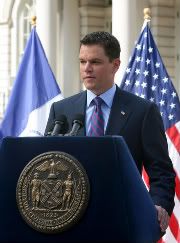 Imagine meeting someone and falling completely in love, only to be told by someone else you've never met that you must end the relationship. This is what happens to David (Matt Damon) in "The Adjustment Bureau."
David is a politician about to win a seat in the Senate when he meets ballerina Elise (Emily Blunt). She's a one of a kind girl — the kind who accidentally puts his cell phone in coffee and punches him in the gut to win a race (check out the "Cell Phone" and "Race" clips, respectfully) — and they have an immediate chemistry. But soon, mysterious men, lead by Richardson (John Slattery) and Thompson (Terence Stamp), show up in David's life to tell him he can't be with Elise. These men are the Adjustment Bureau, the heavy hands of Fate.
In the "Confrontation" clip, Richardson explains to David that Elise isn't part of the Plan … she's off limits, and the Adjustment Bureau is there to pull the two apart. Richardson says chance brought David and Elise together, not fate.
David needs to decide whether he should succumb to fate, or to take Elise, run away from the Adjustment Bureau and choose free will. Guess what he does?
This looks like an interesting mash-up of science fiction and romance, and with Damon and Blunt running the show, I'm sure it will be an interesting film to watch.
"The Adjustment Bureau" opens on March 4.
. . .
Follow Amanda Koehler on Twitter at http://twitter.com/AEKoehler.
And don't forget to "Like" It's Just Movies on Facebook at
http://www.facebook.com/itsjustmovies.