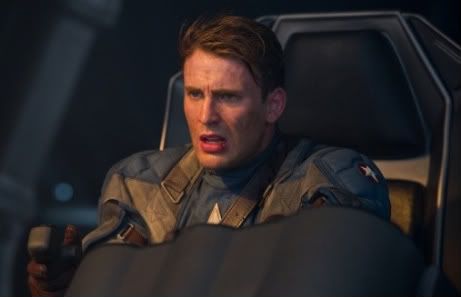 At first, there were a lot of skeptics towards Marvel's choice to cast Chris Evans as the title character in this summer's "Captain America: The First Avenger." But, as photos started to leak out, and the general attitude toward the film turned positive. With many pictures of the cast out now, we have seen a lot of photographs from the movie, but in terms of live action, only a 33-second teaser trailer during the Super Bowl has been shown so far. Now, we finally have some more footage to analyze, as Entertainment Tonight showed more footage then we previously had seen.
In this extended preview, we see a lot more of the weak and scrawny Steve Rogers (Chris Evans) and his dreams of serving his country being dashed as he is rejected from serving in the military. Then we see the physical transformation that the super solider program did for him. We get to see some new scenes of Rogers enjoying his new physical prowess and running through the streets. More hand to hand combat is shown along with more landscapes helping to design the world that he lives in. We get to see a gathering of the enemy and a longer look at the Red Skull (Hugo Weaving) literally unmasking himself.
Among the new footage, one of the most anticipated things to see was Evans throwing the mighty shield, which is Captain America's most powerful weapon. Along with this, we see more motorcycle riding and a lot more action and explosions. We also get some commentary from Rogers showing his doubt in his new abilities. And we see a lot more interaction from Hayley Atwell (as Peggy Carter) as she goes into action and is seen in a higher capacity then just around the lab and army base.
One thing that was missing — which was actually teased for this upcoming sneak peak — was Tommy Lee Jones and his communication with the army troops as he is inspecting them and looking for a suitable candidate for the program. Besides that, I am really happy for these new scenes and glimpses into this epic movie.
So did you find the new footage exciting? Did you see what you were hoping to see? Leave a comment to let me know if seeing these new scenes of action and drama have gotten you more or less excited for this summer blockbuster.
Directed by Joe Johnston, "Captain America: The First Avenger" opens July 22 in both 2D and 3D and stars Chris Evans (Steve Rogers/Captain America), Hugo Weaving (Johann Schmidt/Red Skull), Neal McDonough (Dum Dum Dugan), Hayley Atwell (Peggy Carter), Sebastian Stan (Bucky Barnes), Tommy Lee Jones (Colonel Phillips), Stanley Tucci (Abraham Erskine), Samuel L. Jackson (Nick Fury) and Dominic Cooper (Howard Stark).
. . .
Follow Adam Poynter on Twitter at http://twitter.com/CCWGGuy.
And don't forget to "Like" It's Just Movies on Facebook at
http://www.facebook.com/itsjustmovies.