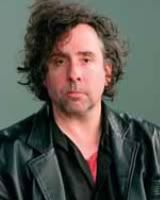 This weekend, Tim Burton was in Los Angeles to kick off the opening of his art exhibit at LACMA. The exhibition, which runs through Oct. 31, showcases many of Burton's illustrations, sculptures, paintings and films. During the grand event, The Wrap sat down with Burton to ask questions about his good friend Johnny Depp and of course his next anticipated project, Dark Shadows. Here are some of the highlights.
The original "Dark Shadows" was a daytime serial that ran from 1966 to 1971. Labeled a Gothic soap opera, each episode had a dark tone and some considered the Dan Curtis production to be ahead of its time. However, when I watched the series in its entirety as it re-aired on the then-Sci-Fi channel back in the '90s, one couldn't ignore the camp factor. Burton had this to say about staying true to the soap's overall essence and whether or not the film version will have that "soapy quality":
I'm early into it because it's a funny tone, and that's part of what the vibe of the show is, and there's something about it that we want to get. But when you look at it, it's pretty bad. I'm hoping that it will be — it's early days, let's put it — I'm very intrigued by the tone. It's a real ethereal tone we're trying to go for and I don't know yet.
Of course, by now it's well known that Depp and Burton are close friends. Including "Dark Shadows," Depp will have starred in seven of Burton's films (eight if you include his voice work for "The Corpse Bride") When speaking of their bond, Burton said it was more of a psychic connection.
We're friends and colleagues, and we've always taken the tack of not working together just to work together. It's got to be the right part, the right movie, all of that sort of thing. There's a good sort of non-communicative communication, you know. Because especially back then I was not a good verbal communicator, and he's a bit similar, but there's more of a psychic kind of connection, I would say, that sort of has remained. I like actors, too, that like to change, become different things. Those are the kinds of actors I find fun and exhilarating to work with.
Finally, the most talked about subject in recent years: 3D. Thankfully, "Dark Shadows" will not be in that format, so sayeth Burton. He seemed to be quite vocal on the subject.
I have no plans for that. I loved doing "Alice" in 3D. "Freankeweenie," gonna do that in 3D. There's people like, "Everything's gonna be in 3D," or "I hate 3D!" I think people should have a choice. I don't think it should be forced on anybody. At the same time, it's great, some of it. It's like "Yes or no!? 3D! Yes or no?!" It's like, well, you know, come on, whatever, some yes, some no.
Since audiences in the U.S. are starting to reject 3D films, I think Burton made the right decision by not going that route. Not every movie should be 3D and it's obvious movie studios are using the inflated prices to make a profit. Besides, another Depp and Burton collaboration is pretty much a sure thing.
. . .
Follow Sherice Antoinette on Twitter at http://twitter.com/ShericesPieces.
And don't forget to "Like" It's Just Movies on Facebook at
http://www.facebook.com/itsjustmovies.