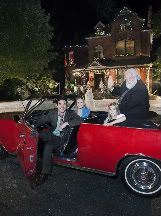 Dean Cain ("Lois & Clark: The New Adventures of Superman") stars as an up-and-coming attorney who is representing Santa Claus and defending the magic of Christmas in one of the biggest lawsuits the world has ever seen in the world premiere of "The Case for Christmas," a Hallmark Channel original movie premiere Nov. 19 (8p.m. ET/PT, 7C).
The holiday movie also stars Rachel Blanchard ("7th Heaven"), George Buza ("X-Men") and Barry Flatman ("The Kennedys").
Michael Sherman (Cain) is a lawyer and single father struggling to obtain more clients. Being a single working dad, Michael doesn't have time to think about a relationship or work on the classic car he inherited from his parents, but his friend Lauren (Blanchard) is a mechanic who helps rebuild the family heirloom and begins to fall for him. Michael (Cain) takes on a case that could make or break his career…and Christmas.
The majority of the population is losing faith in Santa Claus (Buza) and the Christmas spirit. To make matters worse, Santa is served with a class action lawsuit for irreparable emotional distress by sporting-goods mogul Braxton Bennett (Flatman) who never received the holiday gifts he wanted as a child. Santa believes he has a strong case because Braxton was always on the naughty list and asked for gifts, like a yacht, that were unattainable. Santa hires Michael Sherman to represent him. Once the trial between Kris Kringle vs. Braxton Bennett begins, Michael finds it's much tougher defending Santa Claus than he had initially predicted. Braxton presents a case of Santa's neglect and the biggest gift giver in the universe has difficulty deflecting the accusations.
As Santa's public stock continues to plummet, the press makes Michael the laughing stock of litigators. Both Michael's and Santa's careers are in jeopardy and it will take a miracle for a pouting, overgrown kid like Braxton to come to the realization that Santa always gives the most appropriate gift possible to every child.
"The Case for Christmas" is a Chesler/Perlmutter Production. Lewis Chesler, David Perlmutter and Rob Vaughn are executive producers. Marek Posival is producer. Timothy Bond directed from a script by Tom Amundsen.
. . .
"Like" It's Just Movies on Facebook at http://www.facebook.com/itsjustmovies.