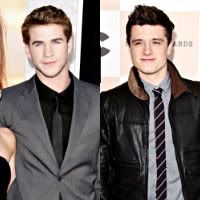 Let the games begin.
Lionsgate announced today it has found two actors to play Peeta Mellark and Gale Hawthorne in the highly anticipated movie adaptation of The Hunger Games.
From left in the picture, Liam Hemsworth ("The Last Song") joins the movie as Gale Hawthorne and Josh Hutcherson ("The Kids Are All Right") has been cast as Peeta Mellark. Both will star opposite Jennifer Lawrence, who will play the heroine Katniss Everdeen.
For more about this news, go to Reelz Channel.
For those not familiar with the sci-fi series of books, here is a description from the publisher, Scholastic:
Twenty-four are forced to enter. Only the winner survives.

In the ruins of a place once known as North America lies the nation of Panem, a shining Capitol surrounded by 12 outlying districts. Each year, the districts are forced by the Capitol to send one boy and one girl between the ages of 12 and 18 to participate in the Hunger Games, a brutal and terrifying fight to the death — televised for all of Panem to see.

Survival is second nature for 16-year-old Katniss Everdeen, who struggles to feed her mother and younger sister by secretly hunting and gathering beyond the fences of District 12. When Katniss steps in to take the place of her sister in the Hunger Games, she knows it may be her death sentence. If she is to survive, she must weigh survival against humanity and life against love.

. . .
"Like" It's Just Movies on Facebook at http://www.facebook.com/itsjustmovies.