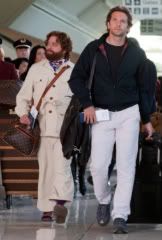 When I first saw "The Hangover" its opening weekend in 2009, I think I laughed harder than I've ever laughed in a movie theater. There were few moments in that film when I wasn't at least smiling — the gang's adventures with Mike Tyson's tiger, Mr. Chow jumping naked out of the trunk of the car, pretty much anything that came out of Zach Galifianakis' mouth ("Is this the real Caesar's Palace? Did Caesar live here?).
The R-rated comedy struck such a chord at the box office that director Todd Phillips is trying his hand at a second installment. Few details have been revealed about the sequel's plot, but an Entertainment Tonight feature gives us a glimpse behind-the-scenes. This time around, it's Stu's (Ed Helms) nuptials the gang is celebrating. Phil (Bradley Cooper), Alan (Galifianakis) and Doug (Justin Bartha) all accompany him to Bangkok for the ceremony and promise even crazier times than Las Vegas.
Not much else is known in terms of plot, but a few other cast details have been revealed. Heather Graham is out this time around, with Jamie Chung filling the role of Stu's fiancee. Liam Neeson cameos as a tattoo artist, and the ET piece reveals Ken Jeong will return as Mr. Chow and Mike Tyson will be back as himself.
What worked so well with "The Hangover" was the core cast's great chemistry. You can those guys have a blast working together, and that translates to the audience. The sequel runs the risk of simply rehashing the first film in a different locale, but as long as the writing is sharp and the cast are their usual hilarious selves, it could be an even bigger hit than its predecessor.
"The Hangover Part II" opens May 26.
. . .
Follow Alexa Milan on Twitter at http://twitter.com/alexamilan.
And don't forget to "Like" It's Just Movies on Facebook at
http://www.facebook.com/itsjustmovies.