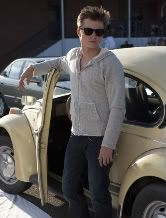 Two-weeks ahead of its Oct. 14 release, Paramount Pictures will host exclusive advance screenings in 25 markets as part of "Footloose Fridays" in celebration of the nationwide opening of co-writer/director Craig Brewer's new film.
Following the screenings on Friday, Sept. 30, fans of the film — which stars Kenny Wormald, Julianne Hough, Andie MacDowell and Dennis Quaid — can tweet their reactions using #Footloose to join the conversation.
WHEN: Friday, Sept. 30, 2011 at 6 p.m. PT, 7 p.m. CT and 8 p.m. ET.
WHERE: 26 select theatres across the U.S. and Canada: Atlanta (Regal Town Center); Boston (Regal Fenway); Chicago (Regal Webster Place); Cleveland (Regal Crocker Park); Dallas (Rave Ridgemar); Denver (Regal UA Pavilions); Detroit (MJR Partridge Creek); Houston (Regal Edwards Marq*E); Kansas City (AMC Barrywoods); Los Angeles (AMC Century City and AMC Burbank 16); Miami (AMC Sunset Place); Minneapolis (AMC Southdale); New York (Regal Union Square); Orlando (Regal Winter Park); Philadelphia (Regal King of Prussia); Phoenix (Harkins Tempe Marketplace); Sacramento (Century Roseville); Salt Lake City (Gateway Megaplex); San Diego (Regal Mira Mesa); San Francisco (AMC Metreon); Seattle (Regal Meridien); St. Louis (Wehrenberg Ronnies); Tampa (AMC Veterans); Toronto (Cineplex Odeon Varsity Theatre); Washington DC (Regal Majestic)
HOW: Admission is free. Visit www.FootlooseFriday.com to RSVP for your exclusive screening now.
First come, first serve. No purchase necessary. RSVP does not guarantee admission.
. . .
"Like" It's Just Movies on Facebook at http://www.facebook.com/itsjustmovies.