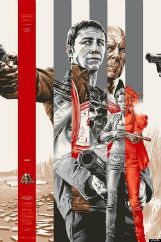 "Looper" is a film full of twists and turns, multiple layers to the story and each character. Writer-director Rian Johnson ("Brick," "The Brothers Bloom") has taken a fairly minor budget of $60 million and made an action-packed sci-fi thriller that looks and feels like a $200 million epic adventure that transcends and reinvents the genre of time traveling films.
With a stellar cast of stars, each ones shines onscreen and the physical transformation that Joseph Gordon-Levitt has undergone proves him capable of portraying any role. There are also tons of supporting characters, some significant and some smaller, but each adds something to the film it needed and in the end it all becomes a very complex, intelligent and edge-of-your-seat thrill ride from start to finish.
As this movie is more enjoyable the less you know going in, I will just do a very basic plot outline without any spoilers.
Set in the year 2044 Joe (Joseph Gordon-Levitt) is a specialized assassin who works for the mob, only it's not the current mob, but those in the year 2074. Time travel was invented and instantly outlawed, so it's only used by very large crime syndicates in the future. If they want a target eliminated, they send them to the past so the Loopers can execute them and dispose of the evidence of them ever existing. Loopers are very well paid and live rock star lifestyles; constant parties, drugs and women. There is only one rule to being a Looper, never let your target escape — no matter what.
When things in the future begin to become more unstable, it seems to spell immediate trouble for these eliminators. But when a 30-year-older Joe (Bruce Willis) appears as his target, the young Joe's hesitation causes him to let his target escape. Knowing that his boss Abe (Jeff Daniels) won't let him live if he finds out he failed to do his job, young Joe goes on an immediate manhunt to find and kill his future self. However, future Joe is in the past on a personal mission that young Joe doesn't understand and it will take him on a journey of self-discovery that will bring him into contact with Sarah (Emily Blunt) and her young son Cid (Pierce Gagnon). Younger Joe will have to decide what is important and what is the right thing to do.
"Looper" is full of chases, gun battles, bloodshed and suspense, but also brings deeper themes of selfishness, choice, sacrifice, and potential for good and evil. The script, storyline and dialogue are smart and are sure to engage audiences long after the film concludes.
The film has two anti-heroes and as you want to root each of them on, they both have questionable motives and dark sides that make you want one to beat the other one minute and then you switch perspectives the next. While neither is the typical protagonist, both are enjoyable to watch onscreen.
Joseph Gordon-Levitt has transformed himself completely into a younger Bruce Willis –from his eyes, the way he moves and even the way he stands, all mixed with some amazing facial prosthetics. Their chemistry was so well tuned in the film it makes them seem like they have worked together for years.
They extended cast was great as well. Emily Blunt really seems unlike any other character she has ever played, going through a full metamorphosis from the time we meet her to the time the movie ends. The action genre suits her well and I can definitely see her returning to the genre very soon. The young boy who plays her son Cid, Pierce Gagnon, was phenomenal. Being so young in age and yet being able to go to emotional extremes for the role was very impressive.
Other smaller parts and cameos I enjoyed were Paul Dano as young Joe's best friend, Noah Segan as the incompetent and unstable right-hand to the mob boss, and Piper Perabo as a high class escort who has caught young Joe's eye. There were other stand-out performances by Summer Qing, Tracie Thoms, Garret Dillahunt, and Cody Wood.
With an outstanding cast, multi-layered storyline, amazing graphics and visual effects, "Looper" is a movie that makes you cringe one second and then yell the next. Director Rian Johnson has created an instant classic that is unique and challenges the standard and raises the bar.
This is a movie you will end up seeing again and again, discovering new things each time. While its graphic violence, major bloodshed and constant killing makes it a movie for just the adults, don't let that stop you from getting a sitter and heading to your local theater to catch "Looper" on the big screen — they way it is meant to be seen.
"Looper" is in theaters now and is rated R for strong violence, language, sexuality/nudity and drug content.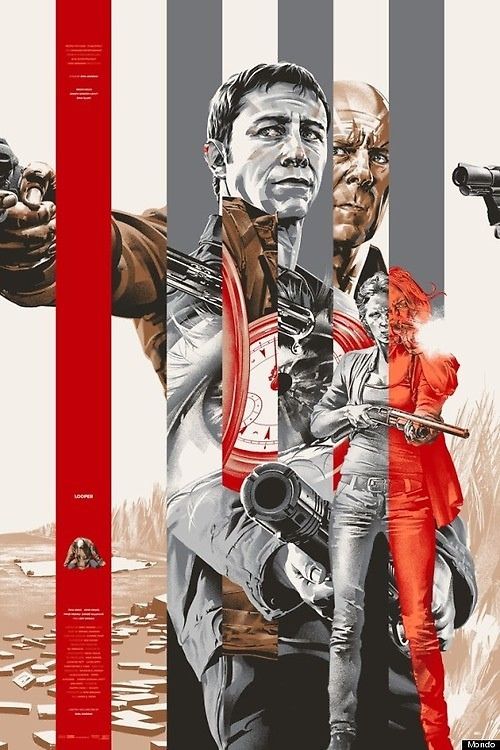 . . .
"Like" It's Just Movies on Facebook at http://www.facebook.com/itsjustmovies.