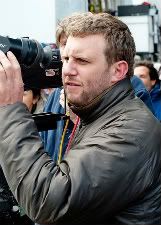 Principal photography has begun on Warner Bros. Pictures' and Village Roadshow Pictures' "The Gangster Squad," starring Josh Brolin, Ryan Gosling, Emma Stone and Sean Penn, under the direction of Ruben Fleischer ("Zombieland").
Los Angeles, 1949. Ruthless, Brooklyn-born mob king Mickey Cohen (Sean Penn) runs the show in this town, reaping the ill-gotten gains from the drugs, the guns, the prostitutes and—if he has his way—every wire bet placed west of Chicago. And he does it all with the protection of not only his own paid goons, but also the police and the politicians who are under his control. It's enough to intimidate even the bravest, street-hardened cop…except, perhaps, for the small, secret crew of LAPD outsiders led by Sgt. John O'Mara (Josh Brolin) and Jerry Wooters (Ryan Gosling), who come together to try to tear Cohen's world apart.
Shooting entirely in and around Los Angeles, including in many of the actual locations featured in the story, "The Gangster Squad" is a colorful retelling of events surrounding the LAPD's efforts to take back their nascent city from one of the most dangerous mafia bosses of all time. The screenplay is by Will Beall (TV's "Castle"), based on Paul Lieberman's series of articles entitled "Tales From the Gangster Squad." The film is being produced by Dan Lin ("Sherlock Holmes"), Kevin McCormick (upcoming "The Lucky One") and Michael Tadross ("Arthur").
"The Gangster Squad" stars Penn as real-life mobster Mickey Cohen; Brolin and Gosling as the LAPD's Sgt. John O'Mara and Jerry Wooters; and Stone as Grace Faraday, Cohen's moll and the object of Wooters' attention.
The movie also stars Robert Patrick as Officer Max Kennard, a deadly cop who patrols the Olvera Street beat; Michael Peña as Kennard's over-eager sidekick, Navidad Ramirez; Giovanni Ribisi as the force's Conway Keeler, an electronics expert who takes as much pleasure in fixing his son's bike as he does tinkering with experimental, military-grade equipment; and Anthony Mackie as Coleman Harris, a switchblade-wielding cop who proudly patrols one of the most crime-ridden areas of the city.
Joining Fleischer behind the scenes are the director's regular collaborators, production designer Maher Ahmad and editor Alan Baumgarten, as well as Academy Award®-winning director of photography Dion Beebe and Oscar®-nominated costume designer Mary Zophres.
"The Gangster Squad" will be distributed by Warner Bros. Pictures, a Warner Bros. Entertainment Company, and in select territories by Village Roadshow Pictures.
. . .
"Like" It's Just Movies on Facebook at http://www.facebook.com/itsjustmovies.