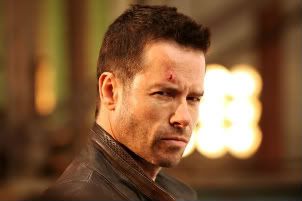 How would you feel about a movie that seems to have taken aspects of many popular action films and combined them together? Would your attitude change if I mentioned "Con Air" meets "Escape from New York" with a twist of "The Rock" thrown in there? What if I told you the script was written by legendary French writer and director Luc Besson ("Taken," "The Transporter" and "The Fifth Element)?
Well, this is all true with the new film "Lockout," which takes the whole riotous prison aspect, puts it in space and stars Guy Pearce as Snow, a man wrongfully imprisoned for a crime he didn't commit. He is told he will be granted a full pardon if he travels to an orbital prison that houses the world's most dangerous criminals and rescues the president's daughter, Emilie (Maggie Grace), from the murderous inmates who have taken over the space prison.
The convicts are being led by the diabolical Hydell (Joseph Gilgun), who has other plans for himself and his fellow detainees. Snow must sneak into the advanced prison and rescue Emilie and escape before the entire structure comes crashing down on Earth. It's a race against time and there's only one man crazy enough to accomplish this job.
Sound interesting? Check out the film's trailer and let us know what you think about the film.
I must say that the trailer gets me excited for the film. The look and feel of it, combined with the special effects, makes me think of films like "Minority Report" and the humor is very similar to Bruce Willis' John McClane in the "Die Hard" franchise. Do all these similarities and homages to major action and sci-fi films of the past lessen my curiosity in the film? Not really, as long as they are not direct knock-offs of those films than I am fine with it.
It will be interesting to see how "Lockout" does at the box office when it opens against Joss Whedon's new action thriller "Cabin in the Woods" on April 13.
Do you think that the similarities and references to past films of the genre bring a good or bad familiarity to this film?
. . .
Follow Adam Poynter on Twitter at http://twitter.com/CCWGGuy.
And don't forget to "Like" It's Just Movies on Facebook at
http://www.facebook.com/itsjustmovies.