The new trailer for Jon Favreau's "Cowboys & Aliens" is up and it's glorious.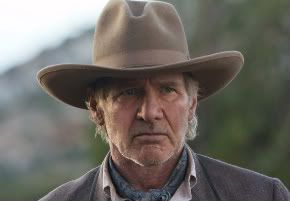 Packed with action, there are explosions, a bar fight and citizens yanked into spaceships. To titillate the audience, Daniel Craig is seen shirtless and there's a glimpse of Olivia Wilde partially nude. Sam Rockwell (whom I had forgotten was in this picture) is wearing spectacles and a derby fits the western motif perfectly and — as expected — provides a bit of comic relief.
Yet, the trailer would be remiss without the amazing Harrison Ford as the ornery Colonel Woodrow Dolarhyde. Toward the end of the clip, we see his character interact with Rockwell's in great comedic fashion. That, in addition to the sci-fi/western theme, makes "Cowboys & Aliens" the film to watch this summer.
"Cowboys & Aliens" opens July 29.
. . .
Follow Sherice Antoinette on Twitter at http://twitter.com/ShericesPieces.
And don't forget to "Like" It's Just Movies on Facebook at
http://www.facebook.com/itsjustmovies.