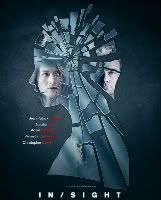 What if you were a victim of a violent crime and you could feel your life slipping away? You would want to tell someone what you knew about it, wouldn't you? Is the will so strong that you could transfer thoughts, memories or even experiences? Suppose you could transfer them, would the person you chose to send them to know what to do with them when they got them?
Director Richard Gabai and writers Aaron Ginsburg and Wade McIntyre are bringing you a thriller that is more than intense action. "In/Sight" brings you along for a ride with the victim and her chosen savior, of mind games, thoughts and visions that could question the sanity, of a woman who thinks she is on a journey of getting justice for a crime victim.
Kaitlyn (played by Natalie Zea of "Justified") is an ER nurse who is accidentally electrocuted by the defibrillator while trying to save the life of Alison (Angeline-Rose Troy), who was a stabbing victim. Immediately afterwards, she starts to have memories and visions of the victim's life and the attack, visions that terrify her and question if she is losing her mind.
As she turns to her family, friends and the police for help, and they all fail her as they don't take her seriously, she feels forced to solve the crime herself-as the visions become more terrifying and threaten her belief in what is real.
She soon finds Det. Peter Rafferty (Sean Patrick Flanery) is becoming an ally, who helps her go through the victims past to find the truth to her murder.
Flanery brings the perfect touch to his character, as one who at first doesn't know what to make of this woman and her claims of seeing a dead woman's life, and then to team up with her to solve this murder.
"In/Sight" — which also stars Adam Baldwin, Christopher Lloyd, Thomas Ian Nicolas, Veronica Cartwright, Max Perlich, Lesley Ann Brandt and Juliet Landau — opens in theatres Sept. 2. My Labor Day weekend just got a whole lot better.
. . .
Follow Lynn Tackitt on Twitter at http://twitter.com/pvtgiggles.