Yesterday, the teaser for "The Amazing Spider-Man" was leaked, but now, there is finally an official HD version of it — take a look at the return of the web-slinger!
Well, there are so many things I can say from what we just saw, and I would like to start with Andrew Garfield as Peter Parker. I have, in the past months, mentioned that Garfield has totally the looks of Peter Parker and Spider-Man, from the little dialogues and acting that I saw in the trailer – I feel like that there couldn't have been a better actor to portray the web-crawler. The nerdy version of Garfield's Parker (as compared to Tobey Maguire's Parker) has won me over once again. It's going to be interesting to see how well Garfield portrays Spider-Man, who typically has an incredibly amusing and heroic personality.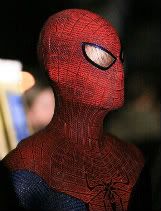 We also see for the first time in live-action the appearances of Richard Parker (played by Campbell Scott) and Mary Parker (played by Julianne Nicholson) — the parents of Peter Parker who disappear during the early years of Peter. We also see some interesting scenes between Parker and his love interest, Gwen Stacey (portrayed by Emma Stone), and I can't wait to see these two together in the movie. We also see glimpses of Dr. Curt Connors (played by Rhys Ifans), and we all know what he will turn into – The Lizard. I need to see more of him before I have a clearer opinion of him.
Let's not forget Uncle Ben (played by Martin Sheen) and Aunt May (played by Sally Field) and I think I'm already satisfied with Sheen as the most inspiring and most influential person in Peter's life, but with Fields – I'm not saying that I'm not happy with her as the loving aunt but still, I'm not sure what to think.
The final scene we see is Spider-Man swinging through New York and while I think most of it was CGI, it looked incredible and so well done. Also, we saw Parker first exploring his powers, like crawling on the walls for example, which I always enjoy seeing, whether if it's in a comic or on the screen. I am so glad that we have finally seen some footage and I can't wait to see more teasers and trailers as the year goes by.
"The Amazing Spider-Man" will swing into theaters July 3, 2012, and if you are going to Comic-Con in San Diego this week, don't miss the panel for "The Amazing Spider-Man."
. . .
Follow Andy Behbakht on Twitter at http://twitter.com/Haoh93.
And don't forget to "Like" It's Just Movies on Facebook at
http://www.facebook.com/itsjustmovies.