"The epic conclusion." These words describe Christopher Nolan's final story in the Batman franchise and while we are waiting a year for the movie's release, we will probably see plenty of teasers, posters and scoops for "The Dark Knight Rises" — starting with the first teaser, which was shown during "Harry Potter and the Deathly Hallows: Part 2" and gives us first glimpses of what we should look forward to next summer.
If you haven't seen the trailer — take a look:
OK, now I will discuss what we see here and comment on what I think of it.
We see the words "Every hero has a journey," which is followed by the words of Liam Neeson as Ra's Al Ghul from "Batman Begins" (and let me remind you that even though his character died in the first one, there have been rumors that say that he might have an appearance in TDKR) while we look back at a young Bruce Wayne (played by Christian Bale) walking towards the village where it all began.
The defining words of Nolan's final Batman story — "Every journey has and end" — come in and we are suddenly shown a man lying in an hospital bed with a breathing mask … it turns out to be Commissioner Gordon (portrayed by Gary Oldman), who talks about this new evil that has risen (which is supposedly Bane, played by Tom Hardy) and that Batman needs to come back. While he is talking, we see a person crawling in a tunnel, a man doing pushup (and from the physical appearance, it's very possible that it's Bane, played by Tom Hardy) in a prison cell since you can see prison bars in the background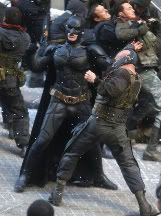 We also hear Wayne talking to Gordon about the possibilities that the Dark Knight doesn't exist anymore and Gordon again saying that he must, followed by a flash of an intimidating glimpse of Bane. The teaser poster that we saw a few days ago is shown in motion, as we see buildings starting to crumble and the Bat logo sharpening in the sky – followed by the chanting "the fire rises" and the final thing we see is the Caped Crusader backing away from his greatest and most physical challenge he has ever faced – Bane. The teaser ends with the first words that I wrote in the beginning, "The epic conclusion."
Now to my thoughts: first of all, we see a glimpse of the Batman versus Bane fight and I'm final starting to lose those horrible images of Joel Schumacher's Bane in "Batman and Robin" – God bless Tom Hardy and Christopher Nolan for doing this character justice. While we don't hear or see much of Bane, it's obvious that he is the "evil" to which Gordon is referring, so it will be interesting to see how Bane's role will play out in the movie. And with reports that the TDKR crew are doing a prison break scene, I think it's pretty much obvious what evil Bane is causing in Gotham City.
Now moving to the person crawling in the tunnel – we don't see who it is, or whether this is a he or she but I have a feeling that the person we see is Selina Kyle (played by Anne Hathaway). Why do I think it's her? While, it could be Bane (since it's shown while Gordon is talking about this evil), I find the person we see, to look kind of small and not as big as Bane and personally it doesn't look like a man so but who knows, maybe that is a flashback of a younger Bane while he wasn't as bulked as he is now. This is just what I think — it's hard to tell since it was just for two seconds but overall, Selina is nowhere to been seen in the teaser and neither is Catwoman. Hopefully, we will get to see her in some sort of appearance, whether it's a glimpse like the Bane teaser we saw months ago or a full shot of her.
Then there is the finale image of one of Batman's most formidable foes and the hero himself in a fight where things might get broken if you know what I'm saying – with rumors that we are in for a "Knightfall" showdown or something of a similar nature. Batman will be meeting his greatest challenge ever and I think that it's a great choice for a conclusion to Nolan's Batman franchise (even though it's disappointing that this is the final one)
So back to Gordon talking about how much Batman needs to come back, which sets up so many possibilities to what the storyline is all about – it wouldn't be a surprise to me if Batman has gone MIA, consider the events in "The Dark Knight." Overall, this teaser was so great in so many ways and while I was hoping to see Selina in some form, I'm still pleased with the trailer and hopefully more news, scoops, pictures and trailers will come as the year goes.
"The Dark Knight Rises" starring Christian Bale, Gary Oldman, Morgan Freeman, Michael Caine, Tom Hardy, Anne Hathaway, Joseph Gordon-Levitt and Marion Cotillard – is scheduled for a July 20, 2012, release. Let me know what you thought of this incredible teaser by hitting with your comments to the right.
. . .
Follow Andy Behbakht on Twitter at http://twitter.com/Haoh93.
And don't forget to "Like" It's Just Movies on Facebook at
http://www.facebook.com/itsjustmovies.