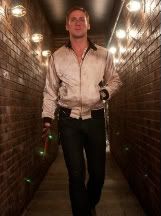 I might be the only woman on the planet who thought "The Notebook" was overrated. When I watched it the first time, I didn't feel the emotion nor was I into heartthrob Ryan Gosling. To put it plainly, I wasn't caught up in the hype. Years later, I was re-introduced to Ryan again in the stirring drama "Blue Valentine." In it, his portrayal of a husband desperate to save his marriage sold me and from that point forward; I was on the Ryan Gosling train.
Which brings me to today. Last week, I was one of the lucky few to attend an advanced screening of "Drive." Before last Thursday, I was mildly curious about the film about a 20-something stunt driver on a quest to help the husband of a cute neighbor. As it turns out, the husband (Oscar Isaac) owes the mob and if he doesn't pay back his debt, his wife Irene (Carey Mulligan) and young son Benicio (Kayden Leos) will be killed. Because of Driver's affinity for the spouse, he makes the noble, yet unwise, decision to step in. Things promptly start to unravel.
Oddly enough, certain violent sequences were met with laughter. Not because the situation was funny, but from utter shock at the range of brutality executed by a seemingly stoic Driver. In a startling performance reminiscent of Javier Bardem's Anton Chigurh, Gosling really delivers here. Not only that, but he manages to prove, that although he maybe young, he has the powerful and cavalier presence of Steve McQueen.
"The Notebook" actor isn't the only stand out, however. Bryan Cranston of "Breaking Bad" notoriety is refreshingly earnest as a well-meaning mechanic who takes Driver under his wing. Mulligan, the cute neighbor I mentioned earlier, is as endearing as ever. One can't help but be drawn into those big brown eyes of hers. Next, there's Albert Brooks as Bernie Rose. I won't divulge too much about his character or portrayal. It's better off unveiled. I will say this, however, Brooks creeped me out. For a different change of pace, Ron Perlman is without a sword, red skin or mask, as mob boss Nino. Albeit a crook he's effective at playing a regular person and should do so more often.
Christina Hendricks is in it for about five minutes. Even though I love Joan ("Mad Men" reference), I felt the part of Blanche could have been played by anyone since the character was underwritten. Still, it was nice to see her in a different role set in present day. Finally, we have Irene's husband, Standard, acted by Oscar Isaac. The few who watched "Sucker Punch" will recognize him straight away as the demented Blue Jones. Somewhat new on the scene, Isaac's unique appearance commands attention. With great success, he's able to make us empathize with Standard, even though the husband isn't exactly trustworthy.
As for "Drive's" soundtrack — it's excellent. "Tick the Clock" by the Chromatics is brilliantly utilized in the opening sequence introducing Driver and for a touching "Pretty in Pink" moment, "A Real Hero" by College was the adequate backdrop. In between tracks, composer Cliff Martinez's ("Traffic") score not only blends well with the aforementioned tunes, it carries the unsettling tone woven throughout the film, creating the perfect amount tension.
Yet the movie would not be the amazing masterpiece it is without helmer Nicholas Winding Refn's ("Bronson") flawless direction and director of photography, Newton Thomas Sigel's ("The Conspirator") gritty cinematography. I really think Refn should be applauded for the pacing and the calculated use of out-of-nowhere violence. As if in a dream, one moment you're totally immersed into Driver's world, and then punched in the gut the next. This correlates with the laughter I mentioned earlier on in this review. It's simply an involuntary reaction to discomfort.
Is this film for everyone? No. "Drive" — which is rated R — is certainly not for kids or squeamish adults. Those who do enjoy this flick, however, would have liked "No Country for Old Men," "The Mechanic" and, of course, "Bronson." In summation, "Drive" is basically a smart man's action film with great acting and a great script. I strongly recommend catching this in a theater instead of waiting for DVD or VOD, you'll be glad you did. Flawlessly executed, "Drive" is one of the best films of the year.
. . .
Follow Sherice Antoinette on Twitter at http://twitter.com/ShericesPieces.
And don't forget to "Like" It's Just Movies on Facebook at
http://www.facebook.com/itsjustmovies.