"The boy who lived, come to die."
Poignant words from the vehemently evil Voldemort portrayed to alarming perfection by the wonderfully gifted Ralph Fiennes. From the moment "Harry Potter and the Deathly Hallows: Part 2" begins, we are braced for the inevitable conclusion. As one would expect, the second part of "Hallows" picks up where the first left off. Harry Potter (Daniel Radcliffe), Hermione Granger (Emma Watson) and Ron Weasley (Rupert Grint) are off to recover and destroy the remaining Horcruxes, which happen to hold pieces of The Dark Lord's soul. Seven in total, three were demolished in the previous Potter films, leaving the remaining four.
When the trio moves their search to Hogwarts, Voldemort, with legions of Death Eaters at his command, forges a war against the school of wizardry. And through Eduardo Serra's sweeping cinematography, we view the grounds as we've never seen them. The Quidditch field ablaze, we are then thrust through the illustrious castle in ruin. It is a discomforting sight to behold since we've become attached to the monument and its outlying areas throughout the years.
The battle scenes are unyielding; however, the violence is never gratuitous. By not showing fatal blows in detail, "Deathly Hallows: Part 2" managed to keep the PG-13 rating. Before "Deathly Hallows," we experienced the first student death when Cedric Diggory died at the hands of Voldemort in "Harry Potter and the Goblet of Fire." As a warning to those who have not read the final novel, as with any war, more lives are lost in "Deathly Hallows: Part 2," so it may behoove you to bring plenty of Kleenex.
But, as one would assume, although bittersweet, there is a happy ending. J.K. Rowling simply isn't that cruel. Thank goodness for that. Fans of the films and books will be very pleased with the end result. David Yates, whom I felt did a less-than-stellar job with "Half-Blood Prince," exhibits great confidence through his direction of "Deathly Hallows: Part 2," redeeming himself here. As for the music, Alexandre Desplat created yet another wonderful score. With hints of John Williams mixed throughout, dare I say I enjoyed Desplat's work more than Williams?
As for the technical aspect, the visual effects are jaw-dropping and on par with "Lord of the Rings" films. Because ample time was given to convert "Deathly Hallows: Part 2" into 3D, the layering was very well done. I didn't notice any "ghosting." For example, the Gringott's bank sequence had so much depth it felt like a motion ride. If you're lucky, while supplies last, when you purchase IMAX 3D tickets you will be rewarded with limited edition Harry Potter glasses – that you can keep! I plan to wear my pair of Harry Potter 3D specs to every 3D film going forward. Don't judge me.
Now, onto the performances. Radcliffe, Watson and Grint are at their best. For a decade now, they've lived and breathed these characters. In the first two films, the trio didn't really know what they were doing. This much is clear when you watch "Harry Potter and the Sorcerers Stone." Yet, they were only 11 at the time and overwhelmed by the sheer weight of it all. By "Prisoner of Azkaban," the adolescents had come to grips with their characters. Now, as young adults, the trio are well versed at their craft, and it certainly shows. About every line is executed to perfection. Out of the three, I would say Grint has improved the most.
As for the supporting cast, I won't be surprised if either Ralph Fiennes or Alan Rickman is nominated for an Academy Award — Fiennes in particular. As I noted at the beginning of this review, he made an absolutely chilling Voldemort. And without spoiling the film, Rickman gives one of the most subtle and heartbreaking performances to date as Dark Arts teacher Severus Snape, which I've come to appreciate even more upon a second viewing.
Maggie Smith (Minerva McGonagall) is and always will be a delight. Look forward to an exchange between the headmistress and Snape, which had the audience cheering. Also returning are other beloved and hated characters from the earlier films. Hardcore followers of the books needn't worry, the anticipated scene between Molly Weasley and Bellatrix is in there.
It's difficult to believe the "Harry Potter" saga is over. The franchise, which has brought in roughly $6 billion dollars to date, has touched and inspired many. And with Fandango reporting more than 2,000 sold-out shows across the U.S. as of July 7, "Deathly Hallows: Part 2" may make Warner Bros. another billion.
Many thanks should be given to David Heyman and David Barron for producing these films. Directors Chris Columbus, Alfonso Cuaron, Mike Newell and David Yates deserve a round of applause for their vision. But, most importantly, special gratitude should be paid to series creator J.K. Rowling and Warner Bros. Studios. Rowling for imagining such a wonderful world and sharing it with us, and Warner Bros. for making sure said world appeared just the way readers envisioned it.
Make sure to catch "Harry Potter and the Deathly Hallows: Part 2" when it opens July 15. If you can get tickets, that is.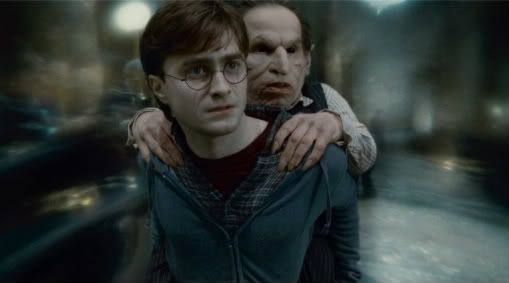 . . .
Follow Sherice Antoinette on Twitter at http://twitter.com/ShericesPieces.
And don't forget to "Like" It's Just Movies on Facebook at
http://www.facebook.com/itsjustmovies.