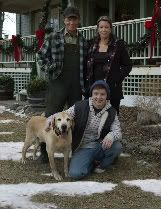 Bruce Greenwood ("John From Cincinnati," "Knots Landing") stars in a heartwarming Hallmark Hall of Fame story about coming to terms with the past and the ways that Christmas can help to bring a family together in "A Dog Named Christmas."
Greenwood is George McCray, who lives on a Kansas farm with wife Mary Ann (Linda Emond, "Julie and Julia") and their 20-year-old, developmentally-challenged son, Todd (Noel Fisher from "The Riches"). It happens that a local animal shelter is looking for families to foster pets for the holidays, and Todd wants one desperately. But George is dead-set against it, maintaining that his son won't be able to adequately care for a pet and that giving a dog back after Christmas will only traumatize him.
We learn that the real reason why George opposes it has more to do with his own bad experiences with dogs in the past — once while he was a kid, the other time when he was serving in Vietnam. So it's really George with the issues surrounding canines. And as his wife comes to realize, the one who really needs a dog this Christmas is her husband, not her son, in order for emotional wounds of the past to heal.
"A Dog Named Christmas" will air Sunday, Nov. 20, at 6 p.m. ET/PT.
. . .
"Like" It's Just Movies on Facebook at http://www.facebook.com/itsjustmovies.