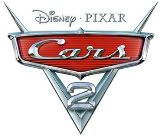 Here is a music video for the song "Collision of Worlds" from the soundtrack for the movie "Cars 2." The song — a collision of musical worlds — is by British pop star Robbie Williams and American country star Brad Paisley.
Pixar's "Cars 2" is in theaters now.
. . .
Follow Sean Gerski on Twitter at http://twitter.com/DoubleDown44.
And don't forget to "Like" It's Just Movies on Facebook at
http://www.facebook.com/itsjustmovies.