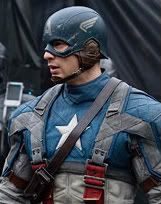 Before it opens anywhere else in the world, "Captain America: The First Avenger" will open first at Comic-Con. Convention goers in San Diego will be the first audience to see one of the summer's hottest super heroes beginning at noon PST on July 21, one-day ahead of its U.S. opening.
The movie will play exclusively at the UA Horton Plaza with Captain America-themed festivities happening throughout the day. To help kick-off the day, Paramount and Marvel will host an exclusive free fan screening at 10 a.m. with the movie's star Chris Evans on-hand to introduce the screening.
In addition to being among the first to see the movie, all "Captain America: The First Avenger" ticket-holders will receive RealD® 3D Collector's Custom red, white and blue "Captain America: The First Avenger" glasses and a limited edition poster designed exclusively for the fans.
A grand prize package of "Captain America: The First Avenger" merchandise and other Marvel items will be given away to a select audience member at each screening. USO-costumed women will be standing at the American Flag Pole in the Horton Plaza passing out free tickets every hour beginning at 11 a.m. to the first 10 people who come dressed as Captain America.
Show times for Captain America: The First Avenger are 12, 12:45, 2:45, 3:30, 5:30, 6:15, 8:15, 9, 11 and 11:45 p.m. Tickets for Thursday's shows are available for purchase at www.fandango.com/uahortonplaza14_aabfx/theaterpage.
Paramount Pictures will distribute "Captain America: The First Avenger" nationwide on July 22.
. . .
"Like" It's Just Movies on Facebook at http://www.facebook.com/itsjustmovies.