Watch the "Cars 2" trailer below and then watch it again.
Did you see what I see? Maybe you need another look.
Yes, that's right it's a world made of LEGOS. In this kitschy bit of cross promotion, the original "Cars 2" trailer has been re-mastered creating a world entirely of LEGO bricks. By using thousands of LEGO bricks, they recreated the trailer frame by frame. It's all being done in celebration of Disney Pixar "Cars 2" line of LEGO play sets.
In this sequel to the 2006 hit "Cars," we see racing star Lightning McQueen once again team up with his best friend Mater for an international adventure as they go up against the world's fastest cars amidst a world of espionage intrigue. The fast pace and humor are back as they come across secret agents, menacing villains and international racing competitors in this trailer as well as the heart that we've come to expect from Pixar animations.
Owen Wilson and Larry the Cable Guy once again led their voice to Lightning McQueen and Mater, respectively, and are joined by a cast of familiar voices including Michael Caine, Cheech Marin and Bonnie Hunt. "Cars 2" zzzzooooms into a theater near you June 24.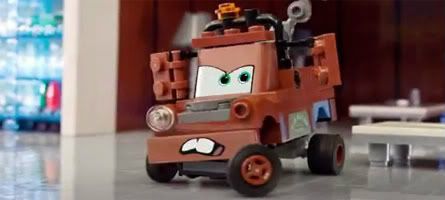 . . .
Follow Jessica Morales on Twitter at https://twitter.com/athena606.