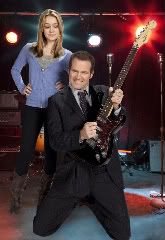 Cassi Thomson ("Big Love") and Jack Coleman ("Heroes") star in "Rock the House," a Hallmark Channel Original Movie World Premiere, June 11 at 9 p.m. ET/PT, 8 CT.
Coleman stars as a father who needs a wake-up call to get his relationship with his teenage daughter, played by Thomson, back in harmony. Clare Carey ("Crash"), Helen Slater ("Supergirl") and Andy Milder ("Weeds") costar. "Rock the House" is part of Hallmark Channel's "Countdown to Father's Day" campaign, with special programming honoring dad's everywhere.
When Max Peterson (Coleman) graduated from high school, he traded his rock star dreams for a fast-moving career. While climbing the corporate later, his job left little time for family and he is now divorced and has a strained relationship with his troubled teenage daughter Karen (Thomson). But when Max reunites with his old band from high school and they begin practicing regularly at his house, he spends even less time with Karen who accuses her dad of not caring about her. Realizing he has not been a good father, Max is determined to win back his daughter and encourages Karen to sing back-up with the band. As they slowly begin to bond over their love of music, Karen starts to blossom at school and at home. But when faced with a new account and heavier workload, Max must decide if work is worth the risk of losing his daughter once again.
"Rock the House" is an MNG Films Ireland Production in association with Larry Levinson Productions. Larry Levinson is the executive producer. Randy Pope, Tony Roman and Mary Callery are the co-executive producers, and Lincoln Lageson and Erik Heiberg are the producers. Ernie Barbarash directed from a script by Joe Woolf.
. . .
"Like" It's Just Movies on Facebook at http://www.facebook.com/itsjustmovies.