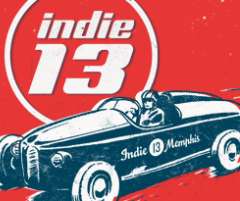 Indie Memphis will host its 14th annual Indie Memphis Film Festival this year from Nov. 3 to 6. Screenings and events will once again take place in the heart of Midtown Memphis at the new Playhouse on the Square, Malco Theatre's Studio on the Square, and the Memphis Brooks Museum of Art.
"We are thrilled to be returning to the Playhouse, the Studio on the Square and the Brooks for our fourteenth edition," said Erik Jambor, executive director of Indie Memphis. "Last year, we saw a record number of Memphians come to Midtown Memphis to attend our festival, and the move to early November will serve our community even better. Falling after area schools have returned from Fall Break, the later dates will especially help us to better engage the Memphis student population."
The Indie Memphis Film Festival, which was named one of MovieMaker magazine's "25 Coolest Film Festivals" in 2009, drew a record-setting crowd of 7,800 attendees in 2010. A Mosaic grant recipient receiving annual funding from ArtsMemphis, Indie Memphis is a 501(c)(3) non-profit organization, which also received special support from the Academy of Motion Picture Arts and Sciences to produce last year's event.
With a focus on regional film-making, the Indie Memphis Film Festival screens a broad range of dynamic and engaging independent features, documentaries and short films, and provides a showcase for new work by Memphis filmmakers. The festival inspires and connects, transforming the city best known as "the home of the Blues and the birthplace of Rock 'n' Roll" into a connecting point for filmmakers, musicians, artists and audiences.
Indie Memphis continues its long track record and proven commitment to connect local and regional filmmakers to nationally renowned and accomplished industry professionals.
Scheduled to attend and serve on the 2011 festival jury are Ira Deutchman (Emerging Pictures, Fine Line Features), Peter Gilbert ("Hoop Dreams"), Gill Holland ("Loggerheads," "Greg the Bunny"), Larry Karaszewski ("Ed Wood"), and Scott Mosier ("Clerks"). Other special guests will be announced in the coming months.
A veteran of the film festival circuit since "Clerks" debuted at the Sundance Film Festival in 1994, Scott Mosier said "Indie Memphis made me enjoy going to festivals again."
Narrative Features will compete for $25,000 in color grading and finishing services from Nice Shoes in New York City, plus a round-trip flight to NYC. Jury awards also include Gorilla Film Production Software.
Deadlines for submission and entry fees for the 2011 festival are:
Earlybird Deadline: April 1 – $35 for features / $25 for shorts

Regular Deadline: May 1– $45 for features / $35 for shorts

Late Deadline: June 1 – $55 for features / $45 for shorts
Special discounts are available for student films and films produced in Memphis and Shelby County, Tennessee. To be eligible for submission, films must have been completed after November 2009 and not publicly screened in Memphis prior to the 2011 festival dates.
Beginning Friday, March 4, filmmakers may submit their work by downloading a PDF entry form from the festival's website at www.indiememphis.com or submitting through the online submission service Withoutabox.com.
Last year's Indie Memphis Film Festival celebrated 25 years of Memphis film-making with the 10th anniversary premiere of Craig Brewer's re-mastered and restored "The Poor and Hungry," a special free outdoor screening of Jim Jarmusch's "Mystery Train" at the Levitt Shell, Kentucker Audley's latest feature, "Open Five," and the Opening Night premiere of David Evans' "The Grace Card."
Indie Memphis also connects filmmakers and festival attendees to the live music scene that pulses through the city. Last year, Memphis musicians, including Snowglobe, Bluff City Backsliders, Artistik Approach, Nancy Apple, Chris Owen, Tonya Dyson, Jason Freeman, Michaela Caitlin, Paul Ray Thomas, Michael Joyner, Grace Askew, Warble, and Pez performed in theatres prior to festival screenings, during Memphis music showcases at the Festival Cafe in the Playhouse on the Square, and at festival parties and receptions in Midtown locations from the Playhouse roof to the P&H Cafe.
Additional highlights from the 2010 festival included free panels discussions, mentor opportunities, and pitch sessions with industry professionals, including former New York Times film critic Elvis Mitchell (KCRW's "The Treatment"), filmmaker Peter Gilbert ("Hoop Dreams," "With All Deliberate Speed"), producer Scott Mosier ("Clerks," "Chasing Amy"), and screenwriters Matt Lopez ("Race to Witch Mountain," "The Sorcerer's Apprentice") and Larry Karaszewski ("Ed Wood," "The People vs Larry Flynt").
"I've written movies that shot in Memphis and I've written movies that take place in Memphis – it's such an exciting city. There is a real love of film there and the people know how to have a good time," said screenwriter Larry Karaszewski. "There also seems to be an emerging scene of young Memphis filmmakers making small independent films that speak to today's times. Indie Memphis is a great showcase for their art."