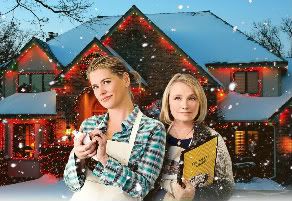 Emmy Award-winning actor Edward Herrmann ("The Gilmore Girls"), Academy Award® and Golden Globe nominee Tess Harper ("No Country For Old Men") and Kristy Swanson ("Buffy the Vampire Slayer") find new friendships can create holiday miracles in "A Christmas Wish," a Hallmark Channel original movie world premiere on Nov. 20 (8p.m. ET/PT, 7C). K.C. Clyde ("Secret Millionaire"), Bart Johnson ("High School Musical") and Danielle Chuchran ("Saving Sarah Cain") co-star.
When Martha Evans (Swanson) finds herself homeless with her two young daughters and stepson just a week before Christmas, she puts her trust in a new town full of friendly strangers and prays for the best. Her no good husband, Cal (Johnson), has left her for the last time, emptying her bank account and disappearing without a word. Hopeless, Martha takes her two daughters and difficult stepson to a sleepy town where she moves into a motel and begs the owner of the local diner, Trudy (Harper), to hire her as a waitress.
Taking a chance, Trudy decides to help Martha and her children, even as things go from bad to worse when Martha's car breaks down and her bills start piling up. Then, as Martha begins to meet more of the locals, including handsome sheriff Joe (Clyde), perky teenage babysitter Jeanie (Chuchran) and grumpy but warm-hearted diner regular Les (Herrmann), Martha finds her faith just be restored — until Cal returns.
Can the town still give Martha the merry Christmas she needs? Or will her past prevent her from the happiness she's found this holiday?
"A Christmas Wish" is a Stone Five Studios production in association with Film More Entertainment & The Clyde Company in association with Crystal Edge LLC. Dave Hunter, Jason Price and Steven Paul are the executive producers. Bryce Fillmore is the producer. The film is written and directed by Craig Clyde.
. . .
"Like" It's Just Movies on Facebook at http://www.facebook.com/itsjustmovies.