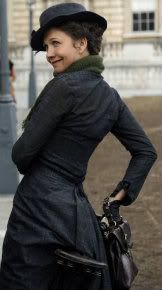 After watching Director Tanya Wexler's Victorian-set comedy "Hysteria," I spent time trying to find a roundabout way to review and describe it without having to go into details or use certain language. After not finding a way around this conundrum, I decided to just say it, "Hysteria" is about the ridiculous medical diagnosis of women with any problems ranging from an upset stomach, irritability, nervousness or even insomnia to which the cure was genital stimulation by the doctor, which in turn led to the invention of the electric vibrator.
In 1880 London, a forward-thinking young doctor named Mortimer Granville (Hugh Dancy) is dismissed from a hospital yet again because he is against using ancient and barbaric techniques like leeches, and rambling on about lunatic things like germs, and the latest scientific breakthroughs. Not wanting to take any charity from his rich friend Edmund St. John-Smythe (Rupert Everett), he sets out to find a new location to practice medicine. He is rejected by multiple medical establishments until he lands at Dr. Robert Dalrymple's (Jonathan Pryce) practice — specializing in the treatment of women's ailments.
Dalrymple's waiting room is filled with women of all ages and he is glad to take Granville in as a secondary doctor, who promises to help women with the very common affliction of "hysteria," something with which Mortimer is not familiar.
When Mortimer takes up residence at the Dalrymple's residence — which also doubles for the doctor's medical practice — he is taken with his beautiful and elegant daughter Emily (Felicity Jones), who is everything he ever wished in a potential wife. It isn't long before he meets Dr. Dalrymple's other daughter, Charlotte (Maggie Gyllenhaal), who couldn't be more different than her sister. She is a strong, independent woman who has given up the glamorous lifestyle to help run a shelter for homeless or impoverished women, children and even reformed prostitutes. Her father, who doesn't approve of her lifestyle choices, is doing everything in his power to make her give up her passion in favor of a role more traditional of women at that time. Although strikingly abrasive at first, Mortimer begins to appreciate Charlotte's passions and begins to doubt the sincerity in his relationship with her sister, Emily.
As Dr. Dalrymple is grooming Mortimer to take over the family business, they are busier than ever, but Mortimer is having trouble with hand cramps. When this begins to disrupt his work, all hope seems lost until he discovers that his eccentric friend Edmund has invented the first electric feather duster, and while testing it out, he feels the relief that the motors massage gives to his hand and has an epiphany: why not use the gentle vibrations instead of manual stimulation to treat women with hysteria? This is a radical idea, but with some tinkering and fine tuning they now have a product that works and once tested the demand for it is astounding. With selling patents and mass producing the new product, Mortimer finally has the fortune he has always dreamed about, but he doesn't feel complete. Will he marry Emily or are his feelings for Charlotte too strong to ignore?
So, this film is not for everyone. It has a very particular sense of humor to it and might be considered offensive to some. The way that the treatments are shown in the film doesn't make you think of a man pleasuring a woman, but a doctor applying a prescription. The mood in the doctor's office isn't sexual or uncomfortable; this was considered a real disease and treatment for decades but it is taken lightly in the film. The acting and chemistry between the leads was good and, as always, Hugh Dancy and Maggie Gyllenhaal threw themselves wholeheartedly in their roles. Even though Rupert Everett only had a small role, it was impactful in the dry and comedic undertones he brought to every one of his scenes.
"Hysteria" is full of funny and even touching moments that can seem a bit clichéd at times, but overall it is a fun, off-beat comedy that will tickle the fancy of the lovers of this genre and might even be a bit educational in the process. Even though this isn't a true story, these events did occur in a similar way to this and some of the actual characters were taken right out of history. The film ends with this bit of information:
"Medical diagnosis of hysteria officially ended in 1952. The portable home-use massager was sold as a women's health-aid in magazines and mail-order catalogues. Now battery operated, the electric vibrator remains the single most popular sex toy in the world.
"Hysteria" is rated R for sexual content and is open in theaters today. You can see its trailer HERE.
. . .
"Like" It's Just Movies on Facebook at http://www.facebook.com/itsjustmovies.