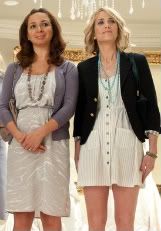 Girls, do you love a good comedy but don't exactly relate to the rom-com cliches of Katherine Heigl? Do you want to see a movie about sisterhood but the fashionistas of "Sex and the City" don't remind you of your girlfriends? Well thanks to Kristen Wiig and "Freaks and Geeks" team Judd Apatow and Paul Feig, there might finally be a female-driven comedy that's right up your alley.
Written by Wiig and Annie Mumolo, "Bridesmaids" focuses on the insanity that ensues as a group of bridesmaids try to help their best friend plan her wedding and bachelorette party. When Lillian (Maya Rudolph) announces she is getting married and asks her single, frazzled best friend Annie (Wiig) to be her maid of honor, Annie puts on a brave face and rallies Lillian's eclectic group of bridesmaids (Rose Byrne, Ellie Kemper, Melissa McCarthy and Wendi McLendon-Covey) to give her a wedding to remember.
I always find movies like "Knocked Up," "Superbad" and "The Hangover" far more hilarious than chick flicks, so I have pretty high hopes for this movie. I think a female-centric raunch comedy is long overdue. A red band trailer would probably give a better indication of the tone of the movie, but with a killer cast and creative team, this is definitely a film I'll be keeping an eye on in the coming months.
"Bridesmaids" hits theaters May 13.
. . .
Follow Alexa Milan on Twitter at http://twitter.com/alexamilan.