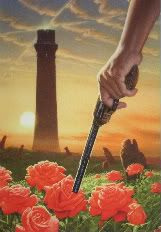 As of today, "The Dark Tower" project is on hold. Uncomfortable with the ambitious undertaking, Universal decided to part ways with what could have been a most profitable franchise. This does not mean the prolific series will not be produced, however. Another studio could very well bring this epic sci-fi and horror western to fruition. The question is, who? Warner Bros. seems like the most likely choice. Back in February, The Hollywood Reporter stated that the company behind the successful "Harry Potter" franchise planned to adapt Stephen King's other amazing novel, "The Stand," to the big screen.
But will Ron Howard stay on board? As of now, the director is still attached and no comment has been made claiming otherwise. Javier Bardem, although not confirmed, is still rumored to play The Gunslinger. In all honesty, a part of me is relieved Universal passed. Yes, I would love to see these films get made, but I do not think Ron Howard is the right man for the job. He botched up "The DaVinci Code" and "Angels and Demons." Were the films terrible? No. But the films paled in comparison to the books from which they were based from.
"The Dark Tower" deserves a "Harry Potter" treatment. Great care must be taken to ensure movies made from the soon-to-be-eight novel series are nothing less than perfection. Speaking of Potter, I almost forgot, there are "Harry Potter" references in "Wolves of the Calla," the fifth book in the "The Dark Tower" series. King has made it known that he is a huge Harry Potter fan. Hmmm. Maybe the universe is at work here.
But let me get back on track. I'm afraid that with Ron Howard at the helm and with Javier Bardem starring, the movies won't be as good as they could be. That's not to say Howard and Bardem are terrible choices. I admire Ron Howard. He is a brilliant director, but dark is not his thing. As for Bardem, he too is magnificent. If Colin Firth wasn't a lock for Best Actor for his pitch perfect performance in last year's "The King's Speech," Bardem should have taken home the gold for his powerful and emotional portrayal of a single father in "Biutiful." But he is not Roland Deschain.
When I first read "The Gunslinger" (years after the first book was published), I envisioned Viggo Mortensen as the main character. However, when Stephen King wrote the first book back in the '80s, he had Clint Eastwood in mind. So, by that, if Mortensen couldn't be convinced to take the role my second choice would be Hugh Jackman. There is a similar ruggedness about him that reminds me of Eastwood.
Perhaps Ron Howard will walk from the project like Guillermo del Toro was forced to do when Universal decided not to finance "At The Mountains of Madness." If this were to happen, a better-suited helmer could take the reigns. Once again, here's hoping.
In the meantime, Ron Howard is set to work on a racing film titled "Rush" penned by screenwriter Peter Morgan ("Frost/Nixon"). Now that project sounds like a much better fit.
What are some of your opinions about this? Would you like "The Dark Tower" to be made? If so, is it better suited for film or television? I think an HBO series would be the best way to go given the complexity and detail in each novel.
Sound off to the right with your thoughts.
. . .
Follow Sherice Antoinette on Twitter at http://twitter.com/ShericesPieces.
And don't forget to "Like" It's Just Movies on Facebook at
http://www.facebook.com/itsjustmovies.