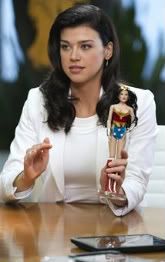 Yesterday, a flurry of shots of Adrianne Palicki and her stuntwoman in the Wonder Woman costume made the rounds on the Internet (including here at It's Just Movies, of course). When you film in public, that's a bound to happen.
Plus, with the quality of cellphones these days, it's quite easy for anyone to capture footage and post it to YouTube. I've included two such videos at the end of this article. Neither is all that interesting in and of itself, but they are worth checking out to see the costume in action. You can judge for yourself, but what I see shows me someone wearing a Wonder Woman costume (of a sort). But I don't see Wonder Woman.
In addition, USA Today has posted a photo from the show (included here) that shows Wonder Woman discussing merchandising. Of note is that the doll she is holding has the "real" Wonder Woman outfit. My guess is that Diana mocks the outfit, which, of course, would be extremely ironic in light of the critical bashing the costume in the Wonder Woman TV show has received.
. . .
Follow Sean Gerski on Twitter at http://twitter.com/DoubleDown44.
And don't forget to "Like" It's Just Movies on Facebook at
http://www.facebook.com/itsjustmovies.