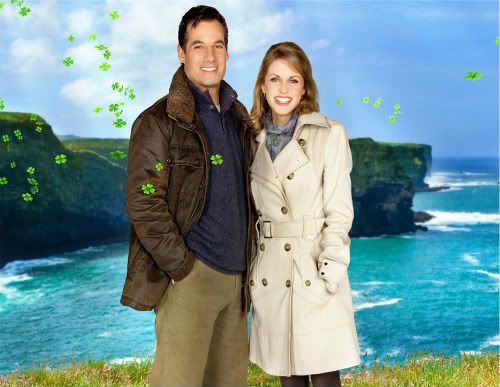 Adrian Pasdar ("Heroes," "The Lying Game") is a corporate fixer who travels to a small town in Ireland and must gain approval from the local pixie expert, Amy Huberman ("The Clinic"), before he can close a deal on a proposed job site believed to be inhabited by leprechauns in "Chasing Leprechauns," a Hallmark Channel original movie world premiere March 17 (8pm ET/PT, 7C).
Michael Garrett (Pasdar), a New York corporate troubleshooter, is ready for a well-deserved vacation from his stressful job. But his demanding boss has other ideas and sends Michael on an unusual assignment — to travel to a small town in Ireland to close a deal on a smelting plant construction site that is believed to be inhabited by leprechauns.
Needing to find a way around the antiquated law considered legend in the town, Michael sets out to get the approval of the town's resident leprechaun expert, local pub owner Sarah Cavanaugh (Huberman), and soon finds that is easier said than done. Sarah believes the land is inhabited by leprechauns, and won't sign Michael's building permit. With a little help from the locals, Michael tries to win over Sarah by acquainting himself with the town's customs, but when he unexpectedly falls in love, he must get luck on his side and his boss off his back. Can Michael find a way to win Sarah's heart and still close the deal, or will the local leprechaun legend leave him with nothing?
"Chasing Leprechauns" is a Parallel Films Production for MNG Films in association with Larry Levinson Productions. Larry Levinson, Mary Callery and Alan Moloney are executive producers. Randy Pope is co-executive producer. Ruth Carter and Peter Norris are producers. Kevin Connor directed from a script by Rod Spence.
. . .
"Like" It's Just Movies on Facebook at http://www.facebook.com/itsjustmovies.