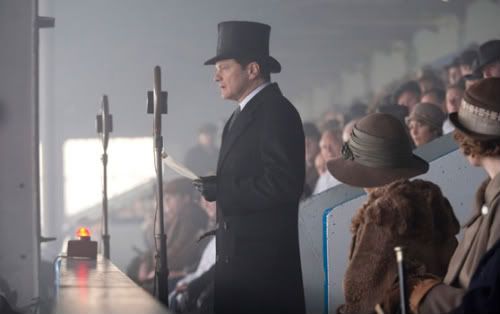 Thursday night, I was at the Wadsworth Theater in Los Angeles for a special screening of "The King's Speech." The film, which I reviewed last year, was more enjoyable upon a second watch. But what made the night's affair all the more special was the Q & A that followed.
In attendance were Colin Firth, Helena Bonham Carter, Guy Pearce, Claire Bloom and director Tom Hooper. Each received a stirring round of applause as they graced the stage, however it was Colin Firth who received a standing ovation and as of now, he is my win for Best Actor. His performance is untouchable.
Moderating the event was KCRW's Matt Holzman, who did an adequate job facilitating questions from not only the audience but also Facebook and Twitter. After introductions were made, Holzman started things off by asking Tom Hooper why King George the VI's speech impediment wasn't well known. The director wittily replied, "The English traditionally have not been highly welcoming to the need for therapy." In truth, not much was known about speech therapist Lionel Logue. However, nine weeks before the shoot, the director tracked down Logue's grandson, who happened to possess Lionel Logue's handwritten diary, which detailed his relationship with the king.
That amazing revelation was just one of many great moments from the Q & A. Helena Bonham Carter, who was understandably jet-lagged from her flight from London, made a point of stating the Royal Family has done a lot for the panel's careers. She herself played four queens. Claire Bloom, several. But what differentiated Queen Mum from the others was that she was described as "a marshmallow but made with a welding machine."
Each actor researched his or her role beforehand. This is most evident through their outstanding performances. Guy Pearce, who joined the production well into filming, used the recordings of King Edward VII to aid with his characterization. Having listened to a few of them myself, his portrayal is spot-on in my opinion. You can find King Edward VII's entire abdication speech at YouTube.
While exploring Queen Mary's history, screen legend Claire Bloom learned that George VI's mother became "emotionally frozen" upon the birth of his epileptic brother. It was because of this she didn't know how to react as a human being.
As for Firth, he discovered there was quite a bit of information on how not to stutter, but not how to do so. Fortunately, screenwriter, David Seidler was at one point a stammerer. He compared the painful experience of not being able to speak clearly as choking underwater. Drowning. That image along with footage of George VI at his worst helped Firth with his jarring interpretation.
Firth received a star on the Hollywood Walk of Fame Thursday and a Golden Globe on Sunday and if you believe in good omens, this achievement may mean more honors lay ahead. An Oscar perhaps?
If you'd like to watch the hour-long Q & A, visit the website at www.kingsspeech.com/live.html, where you will find the interview in its entirety. What I enjoyed most about the session was how light-hearted it was. I didn't expect Guy Pearce to be so funny. Helena Bonham Carter was absolutely darling. At the 51:54 point of the video, she responds to a question posed about her varying characters in the most charming way. Earlier in, Claire Bloom spoke of what it was like to work with Charlie Chaplin. And Colin Firth is just as dashing and eloquent as his most beloved character Mr. Darcy from "Pride and Prejudice".
So if you have the time, do take a look at the video, which arrived during the perfect time, award season-wise. If you haven't watched "The King's Speech" yet, please do. It's an uplifting experience.
. . .
Follow Sherice Antoinette on Twitter at http://twitter.com/ShericesPieces.