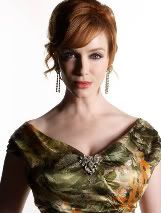 Poor Wonder Woman. It seems as though the DC Comics superhero/Amazon princess has had more movie and television adaptations stuck in development hell than projects that actually grace the screen. There was the 1970s TV show with Lynda Carter and several animated adaptations, but in recent years attempts at bringing the character to life have stalled.
Sandra Bullock was rumored to fill the role in the early 2000s, then Joss Whedon was attached to another big screen version of Wonder Woman's origin story. Even the recent TV pilot featuring Adrienne Palicki failed to make the cut for NBC's fall lineup. But is Wonder Woman's luck about to change?
While promoting his latest movie, "Drive," director Nicolas Winding Refn implied he may get the chance to bring the character to the big screen if his next project is up to par.
Refn recently told The Playlist:
"I would love to make 'Wonder Woman.' And I also think that Christina Hendricks would be the perfect Wonder Woman, but Warner Bros haven't called yet. But I'm getting closer with 'Logan's Run.' I think someone said to me in a meeting that if I get 'Logan's Run' right, then I'll get 'Wonder Woman.'"
Refn's body of work primarily includes smaller films such as "Drive" and "Bronson." But Warner Brothers likely wants to see how he handles a bigger-budget film before handing him the "Wonder Woman" reigns. His next film, "Logan's Run," is a remake of the 1976 movie of the same name about a futuristic society in which people are only allowed to live until age 30, at which point they are killed unless they're clever enough to escape.
What do you think? Could a movie like "Logan's Run" prove Refn's worth as the director of "Wonder Woman?" Is "Drive" and "Mad Men" actress Christina Hendricks a good choice for the character? Sound off in the comments section.
. . .
Follow Alexa Milan on Twitter at http://twitter.com/alexamilan.
And don't forget to "Like" It's Just Movies on Facebook at
http://www.facebook.com/itsjustmovies.