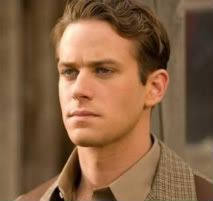 Walt Disney Pictures is working hard to find its leading man for the role of the "Lone Ranger."
Currently, Armie Hammer (who played the Winklevoss twins in "The Social Network") is the top contender for the role. Although Tonto has been linked to Johnny Depp for quite some time now, it is the title role that has been the missing link. Although with Depp playing Tonto, the title role may have a little less luster than normal.
A number of actors have been under consideration to portray the Western hero. We have heard Ryan Gosling came and went, and Timothy Olyphant remains a possible contenders. But, now, Hammer seems to be the front-runner.
Honestly, I am glad they are taking their time to get it right. If you want to see what happens when a Western is poorly cast, check out a little movie called "The Wild, Wild West."
So, what do you think? Can Hammer pull it off? Are Depp and Hammer a good match?
With Gore Verbinski directing, and Jerry Bruckheimer producing, I am feeling confident this can actually be a high-quality project.
. . .
Follow Josue Sanchez on Twitter at http://twitter.com/Josue_can.
And don't forget to "Like" It's Just Movies on Facebook at
http://www.facebook.com/itsjustmovies.