In other Snow White news …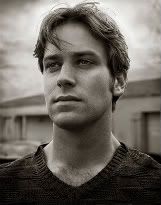 Taking advantage of the media coverage surrounding Viggo Mortensen's exit from Universal's Snow White film, Relativity Media announced Armie Hammer will play Prince Andrew Alcott in "The Brothers Grimm: Snow White" and Saoirse Ronan is in talks to play the fairest of them all. Julia Roberts was cast as the Evil Queen last month and production for the film will begin in May with Tarsem Singh ("Immortals," "The Cell") at the helm.
Now, this retelling of the classic tale sounds promising. Hammer's handsome and statuesque exterior is certainly that of Hollywood royalty. Casting "The Social Network" actor as the romantic lead only makes sense, and Ronan, with her fair complexion and bright blue eyes, should make a fantastic Snow White.
"The Brothers Grimm: Snow White" will open June 29, 2012, months before Universal's "Snow White & the Huntsman," which is slated for Dec. 21 of that same year.
In the meantime, Armie Hammer is filming "J. Edgar" with Leonardo DiCaprio and Judi Dench. Saoirse Ronan can next be seen playing an assassin in "Hannah" which opens April 8.
. . .
Follow Sherice Antoinette on Twitter at http://twitter.com/ShericesPieces.
And don't forget to "Like" It's Just Movies on Facebook at
http://www.facebook.com/itsjustmovies.