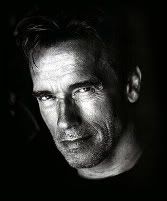 Yesterday at the Arnold Classic, a body-building seminar, the former governor of California updated the Arnold Fans website on future projects.
Here is what he had to say about the scripts he was considering for his comeback film:
"Well, first of all, it's more 15 films — obvious ones from 'The Terminator' to remakes of 'Predator' and 'The Running Man' and all of those things. Then also a lot of original stuff too. But I am also packaging a Comic Book character right now. I'm going to announce that sometime by the end of March or the beginning of April."
Sounds pretty promising. However, I can't say that I wish to see "Predator" remade. Sure Robert Rodriguez's take, which starred Adrien Brody, was fun. I enjoyed it because it was an extension of the franchise. Still, it didn't come close to rivaling the original. As for "The Running Man," given today's reality show climate, it could be a worthwhile project to consider.
Also, look for an Arnold Schwarzenegger biography, penned by the actor himself, this winter.
. . .
Follow Sherice Antoinette on Twitter at http://twitter.com/ShericesPieces.
And don't forget to "Like" It's Just Movies on Facebook at
http://www.facebook.com/itsjustmovies.