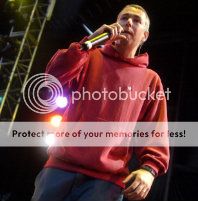 The Documentary Channel will honor the life and passing of Beastie Boys frontman Adam "MCA" Yauch with a special encore airing of "Awesome I … Shot That!" on Saturday, June 23, at 11 p.m. ET. The film, directed by Yauch under the alias of Nathanial Hōrnblowér, is a favorite among Beastie Boys followers and music fans alike.
To capture themselves in concert at New York's famed Madison Square Garden for the final show of their 2004 sold out "Challah At Your Boy" tour, Yauch, Michael Diamond (Mike D) and Adam Horovitz (Adrock) distributed a mix of fifty DV and Hi-8 cameras to their fans, and these fans shot the film.
Ingeniously editing the amateur footage into a psychedelic DIY extravaganza, Yauch created an electrifying work that is far more than a mere chronicle of artists at the top of their game, and has fast become a cult classic.
Subtitled "An Authorized Bootleg," "Awesome I … Shot That!" features the band performing favorite hits from six albums and provides a rare, kaleidoscopic look at the concert stage from the perspective of the fans.
The Documentary Channel is primarily available through satellite television services DISH Network (Channel 197) and DIRECTV (Channel 267).
. . .
"Like" It's Just Movies on Facebook at http://www.facebook.com/itsjustmovies.