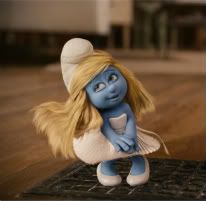 Numerous remakes and feature film versions of our favorite cartoon shows are continuing to be brought to life in live-action versions. One show that entertained so many will be hitting the big screen in 3D this summer, "The Smurfs."
In what is to be a sure-fire hit with the children, "The Smurfs" will be a blend of live action and animation. Sony Pictures Animation and Columbia Pictures are revving up the promotional wagon with just a week to go before the movie's release date.
In the movie, the care-free Smurfs constantly have to outwit the comically evil wizard Gargamel (Hank Azaria), but when Clumsy Smurf (Anton Yelchin) wanders into the "forbidden grotto," his friends Papa Smurf (Jonathan Winters), Smurfette (Katy Perry), Grouchy Smurf (George Lopez), Brainy Smurf (Fred Armisen) and Gutsy Smurf (Alan Cumming) follow him and then are transported via a magical portal into modern-day New York City. Then after befriending a married couple Patrick (Neil Patrick Harris) and Grace (Jayma Mays), they must avoid Gargamel and find a way to return home before the next Blue Moon or they may be stuck in our world forever.
Below, we have a look at some new clips from the movie. In the first two, we see a day in the life of Clumsy Smurf and the tranquil life the Smurfs have in their village. In the second clip, Gargamel discusses his obsession of the Smurfs with his cat Azrael and they share a maniacal laugh together.
The remaining six clips all take place after the Smurfs have traveled to our world and discovered all there is to offer. Also, the clips featuring Gargamel show a bit of his awkward and funny side, without diminishing the fact that he is an all-powerful wizard and a true threat to the Smurfs. The clips show some great interaction between characters and the basic "fish-out-of-water" scenario that has the Smurfs and Gargamel discovering what our world has to offer.
This may not be a film for everyone, but it is sure to make the kids smile. It has all of the essential types of humor that kids find so amusing and, hopefully, a bit of humor thrown in there for the adults. The animation on the Smurfs looks great, but it is hard to tell until you see them on the big screen.
"The Smurfs" will open in theaters July 29.
. . .
Follow Adam Poynter on Twitter at http://twitter.com/CCWGGuy.
And don't forget to "Like" It's Just Movies on Facebook at
http://www.facebook.com/itsjustmovies.