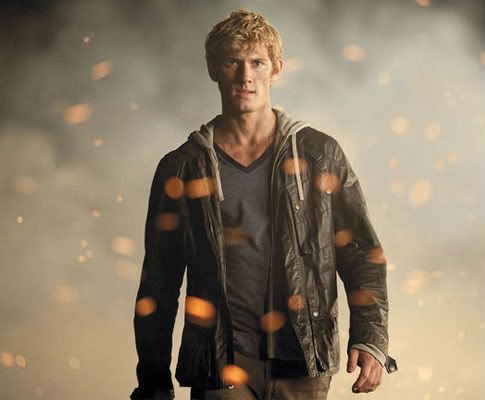 A few new featurettes for "I Am Number Four" have aired and my interest is definitely piqued.
The film looks entertaining and with producers Steven Spielberg and Michael Bay attached, I doubt the film will disappoint sci-fi fans. Directed by D.J. Caruso ("Eagle Eye"), the film follows John Smith (Alex Pettyfer), number four of nine alien children who were sent to earth to escape termination.
In the first featurette, "Inside Look," we are introduced to the main characters. Henri (Timothy Olyphant) is John's protector and Sarah (Dianna Agron) is John's love interest. Both outsiders, but for different reasons, the pair form a bond and eventually fall in love. Apparently, these raw emotions enable John's powers to develop.
Included in the extended version of the first spot is a look at Number 6. She's fierce, she's fearless, and she's ready for battle. Other than that, except for a few new clips, this featurette is identical to the former.
"Origins" reveals more of the backstory. In it, Caruso explains that the nine Lorien children were to band together to reclaim their planet. Unfortunately, when the film opens, we view the demise of Number 3 at the hands of the opposition.
Next up is "Number Six." Portrayed by Teresa Palmer, the sixth Lorien has been tracking John in the hopes she can reach him before the enemy does. Two is better than one. With their powers combined, they stand a better chance against the Mogadorians.
The "Sarah" featurette is the least exciting. Come to think of it, there's nothing exciting about it. "Glee" star Dianna Agron dishes about the love story between John and Sarah, but it's nothing that hasn't been shown before.
"I Am Number Four" was based from the novel of the same name by Pittacus Lore. Set to be a series of books, if "Four" does well, I think it's safe to assume sequels will follow. From what I've seen, I think it has the potential to be a sleeper hit. Since not much is shared in the featurettes, there is quite a bit left to the imagination. For example, where are the remaining Loriens? Are they all blond? Inquiring minds want to know.
"I Am Number Four" opens Feb. 18.
. . .
Follow Sherice Antoinette on Twitter at http://twitter.com/ShericesPieces.
And don't forget to "Like" It's Just Movies on Facebook at
http://www.facebook.com/itsjustmovies.