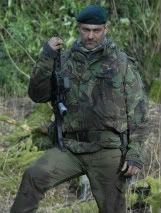 Ray Stevenson (of "The Punisher: War-zone" fame) seems to be pretty busy lately, with roles both big and small here and there. Most recently, he was in "Thor," "The Book of Eli" and "The Other Guys," and next you will see him in "The Three Musketeers."
But here is a interesting bit of casting for him: The Hollywood Reporter is revealing he has been cast as the character Firefly for "G.I. Joe 2: Cobra Strikes." This is definitely interesting casting for me, but I am sure he will be an asset for the movie.
Let's talk about the "G.I.Joe" sequel, which already seems to have done some interesting casting. As of right now, Channing Tatum (Duke) is the only key actor returning from the first movie, and Dwayne Johnson is playing Road Block. Next, we have Ray Park as Snake Eyes and Adrianne Palicki as Lady Jaye. I am sad the "Wonder Woman" TV show didn't get picked up, but glad Palicki got right back on her feet.
Other cast members include RZA as Blind Master, D.J. Cotrona as Flint and Elodie Yung as Jinx.
I guess it's good luck or good timing that they are able to round-up this group together, as I personally foresee this particular sequel making even more money than the last movie.
What do you think about Ray Stevenson joining the cast? What about the rest of the crew, pretty good right?
"G.I. Joe 2: Cobra Strikes" will hit theaters Aug. 10, 2012, and it will be directed by Jon M. Chu ("Justin Bieber: Never Say Never," "Step Up 3D").
. . .
Follow Josue Sanchez on Twitter at http://twitter.com/Josue_can.
And don't forget to "Like" It's Just Movies on Facebook at
http://www.facebook.com/itsjustmovies.