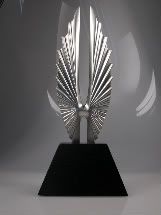 The Gay & Lesbian Alliance Against Defamation (GLAAD), the nation's lesbian, gay, bisexual and transgender (LGBT) media advocacy and anti-defamation organization, announced today the nominees for its 23rd Annual GLAAD Media Awards. By recognizing and honoring media for outstanding images of the LGBT community, the GLAAD Media Awards serve as a benchmark for the media industry and complement GLAAD's work to bring LGBT images and stories to Americans.
Among the nominees: "Beginners," starring Christopher Plummer and Ewan McGregor, "Albert Nobbs," starring Glenn Close and Janet McTeer, "J. Edgar," starring Leonardo DiCaprio and Armie Hammer, TV shows "Shameless," "The Big C," "Glee," "Modern Family" and "NCIS."
Spanish-language nominees include Ricky Martin for his album "Música + Alma + Sexo," telenovelas "Las Aparicio," "Los Exitosos Gome$" and "El Último Matrimonio Feliz," news programs "Noticiero con Paola Rojas" and "Despierta América," and ESPN Deportes' "SportsCenter."
"As media continue to tell new stories about LGBT people and families, a majority of Americans now support full equality of LGBT Americans," said Mike Thompson, GLAAD's acting president. "This year's nominees enlighten and entertain, while spotlighting the diversity of our community. Audiences expect to see their own worlds reflected in media, and today more than ever, those include the lives of LGBT people. Viewers know that LGBT characters and stories are simply natural extensions of, and glimpses into, their own experiences from across America."
The GLAAD Media Awards ceremonies will be held in New York on March 24, 2012 at the Marriott Marquis in Times Square; in Los Angeles on April 21 at the Westin Bonaventure; and in San Francisco on June 2 at San Francisco Marriott Marquis. Special Honorees for each city will be announced in the coming weeks.
GLAAD announced 116 nominees in 25 English-language categories, and 35 Spanish-language nominees in 10 categories. In the English-language categories, cable networks earned 23 nominations, while broadcast networks garnered 19 nominations.
To view the nominees, watch the short video below or click HERE.
The GLAAD Media Awards recognize and honor media for their fair, accurate and inclusive representations of the lesbian, gay, bisexual and transgender community and the issues that affect their lives.
The 23rd Annual GLAAD Media Awards nominees were published, released or broadcast between Jan. 1, 2011, and Dec. 31, 2011. Nearly 1,000 media projects were considered by over 85 volunteers serving on seven nominating juries. Each year, the GLAAD Media Awards in New York, Los Angeles and San Francisco bring together more than 5,000 supporters to raise nearly $3.5 million for the organization's work.
. . .
"Like" It's Just Movies on Facebook at http://www.facebook.com/itsjustmovies.