Yesterday, we got to witness some major scenes between Batman (Christian Bale) and Bane (Tom Hardy), which basically confirmed that the storyline for Nolan's final Batman installment is being inspired by "Knightfall" after all — and it looks like today that another secret of TDKR has been revealed.
Remember when Marion Cotillard officially joined the cast as the character "Miranda Tate" — which she referred to as "a secret role"? Well, looks like her secret role isn't that secretive any more.
SPOILERS TO FOLLOW
Take a look what someone was able to get with THESE PHOTOS and the following video:
Now does that looks like something a board member on Wayne Enterprises would wear? It looks like fans' suspicions might have been right all this time – Miranda Tate is, in fact, Talia al Ghul, the daughter of Ra's al Ghul (Liam Neeson).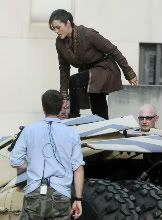 It's not a big surprise to me — with her incredible performance as Mal from "Inception" (who was sort of a villain), I had a feeling her role in "The Dark Knight Rises" would be someone big when it was announced that she was joining the film. Christopher Nolan wouldn't bring in such an incredible actress and give her a role as small as "Miranda Tate" – especially for his final Batman story.
So now a new mystery rises – what is Talia's business in Gotham? Looks like Bane won't be the only one Batman has to look out for. Now let's see until next time whether Joseph Gordon-Levitt's role as "John Blake" could be in fact be another DC Character, perhaps a third villain?
"The Dark Knight Rises" — starring Christian Bale, Gary Oldman, Morgan Freeman, Michael Caine, Tom Hardy, Anne Hathaway, Joseph Gordon-Levitt and Marion Cotillard – is scheduled for a July 20, 2012, release.
. . .
Follow Andy Behbakht on Twitter at http://twitter.com/Haoh93.
And don't forget to "Like" It's Just Movies on Facebook at
http://www.facebook.com/itsjustmovies.