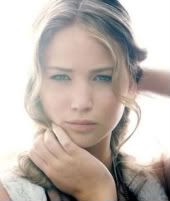 It looks like fans of "The Hunger Games" are very close to learning who will play heroine Katniss Everdeen on the big screen. Variety reported that Jennifer Lawrence — who was recently nominated for an Oscar for her performance in "Winter's Bone" — is close to being offered the role.
The first in a popular trilogy of young adult novels by Suzanne Collins, "The Hunger Games" is a dystopian tale about kids that fight to the death in televised gladiator games. The government chooses one boy and one girl from each district of Panem, the land where North America stood pre-apocalypse, and whoever is alive at the end of the games is declared the winner.
Sixteen-year-old Katniss is one of the participants, and the character has been lauded for her independence, fearlessness and resourcefulness. Lawrence demonstrated she could play all of those qualities very well in "Winter's Bone" so she seems like a good fit in that regard. But she will likely have to undergo a bit of a makeover to match Katniss' physical appearance, as she is described in the books as having long, black hair and olive skin.
Names of potential actresses have been circling for the past couple of weeks, including Abigail Breslin, Chloe Moretz, Saoirse Ronan, Emma Roberts, Kaya Scodelario, Lyndsy Fonseca and another recent Oscar nominee, Hailee Steinfeld.
According to Variety, director Gary Ross and Lionsgate have been trying to decide whether to skew the role younger with someone like 14-year-old Steinfeld or older with someone like 24-year-old Fonseca. Rumors this week that 20-year-old Alex Pettyfer had been approached about playing Katniss' love interest, Peeta Mellark, only fueled speculation that 20-year-old Lawrence was one of the top contenders.
I haven't read "The Hunger Games" yet, though I recently bought the box set and they're at the top of my to-read list. But based on what I've read about the character of Katniss, I think Lawrence could be a good fit. She can definitely play tough, and "Winter's Bone" proved she's engaging enough to anchor a film.
But what do you think? Is Lawrence the right fit for Katniss? Who should be cast in the other roles? Sound off in the comments section.
"The Hunger Games" is set to be released March 23, 2012.
. . .
Follow Alexa Milan on Twitter at http://twitter.com/alexamilan.
And don't forget to "Like" It's Just Movies on Facebook at
http://www.facebook.com/itsjustmovies.