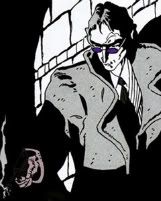 Yesterday, Joseph Gordon-Levitt locked up his role in Christopher Nolan's final Batman movie, "The Dark Knight Rises." What wasn't known was which role he would take on. Today, we have the answer.
According to Variety, Gordon-Levitt will playing Alberto Falcone. The character is the son of Mafia boss Carmine Falcone, played by Tom Wilkinson "Batman Begins."
Alberto Falcone is best known for his role as in the comic book series "The Long Halloween" (which is well worth reading).
"The Dark Knight Rises" is scheduled for release on July 20, 2012.
. . .
Follow Sean Gerski on Twitter at http://twitter.com/DoubleDown44.
And don't forget to "Like" It's Just Movies on Facebook at
http://www.facebook.com/itsjustmovies.