— by MARIUSZ ZUBROWSKI —
Have you ever had a bad day? Forgotten your house keys or had your wallet stolen? Well, Larry Gopnik can relate, but on a much bigger scale.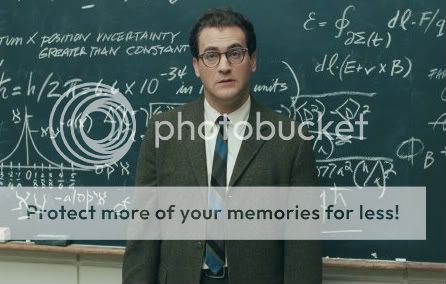 His whole life is crumbling apart. Replace the house keys with marital problems and the stolen wallet with a lawyer threatening to sue on behalf of a disgruntled student of his. Add to that, the stoic replacement husband for his wife that pesters Larry to get a "spiritual divorce" while chanting "it's going to be fine," and to top it all off, add some family problems and you have the basic premise of "A Serious Man," the follow-up to the so-so "Burn After Reading" by the Coen Brothers.
It is a premise that works due to the idiosyncratic characters and because of the actors that play these characters with much gusto.
Michael Stuhlbarg, a fairly unknown actor, plays Larry Gopnik, an "average Joe" physics professor, and this is one of the allures of the film; Larry is the type of character that almost every viewer can relate to, in one way of the other.
He struggles to maintain a social and marital relationship, while sticking to his faith. His life collapses when his wife asks for a divorce to marry another gentleman, Sy Ableman, played by Fred Melamed, a stoic older man who is seemingly oblivious to the trouble he is stirring in Larry's life.
Larry is also threatened by a South Korean student's lawyer that threatens both the fabric of his professional life and his morals. His children are equally unruly, and barely listen to him.
Though a dark premise, laughs are delivered at a steady pace throughout the whole film, as Larry tries to find some guidance while still being "a serious man."
Acting is strong throughout, especially by Michael Stuhlbarg and Fred Melamed, and Richard Kind is also an honorable mention, who plays Uncle Arthur, a socially inept genius.
If the film were in less capable hands, then it surely would have been subpar, as "A Serious Man" is a character comedy, and the relationships between these characters is what keeps us glued to the screen.
After the film concludes, it is surely evident that this is one of the Coen Brother's most thought-provoking films, as well as their most personal.
The balanced mix of drama and dark-comedy, which is topped off with strong performances, makes "A Serious Man," one of the best films of the year, a serious contender for this year's Oscar.
Follow It's Just Movies on Twitter at http://twitter.com/ItsJustMovies.