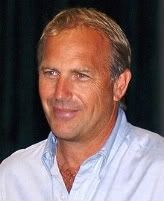 Just the other day, I was watching "Wyatt Earp" with someone and we got to talking about Kevin Costner's career.
It's obviously been a few years now, but there was a point where it seemed like everything he did was worth watching. From roughly 1987 to 1994, a Kevin Costner movie was an event.
After that (and basically starting with "Wyatt Earp"), Costner seemingly lost his magical touch. However, even in his biggest flops (and he was in some of the biggest of all time, such "Waterworld" and "The Postman"), Costner had a stoic, earnest appeal.
When word came down earlier this month that he was being courted for the role of Jonathan Kent, it made all the sense in the world. The role is right in Costner's wheelhouse.
Now, according to The Hollyword Reporter, a deal has been reached and Costner is all-but-officially aboard "The Man of Steel." Costner joins Diane Lane (Martha Kent) Lane and Henry Cavill (Superman) in the cast and I can say without reservation that Costner gives me the most hope (Lane is a top-notch actress, but I still can't decide whether she's right for Ma Kent).
Truth be told, the whole idea of the Superman reboot is not one I will ever really be thrilled with. I would much rather have seen what a different director could have done with Brandon Routh remaining in the role. However, casting Costner in this new series gives me hope that the project is going somewhere worthwhile.
Read the full press release from Warner Bros. below:
Warner Bros. Pictures and Legendary Pictures announced today that Kevin Costner will play Jonathan Kent, the father who raised Clark Kent as his own son, in the new Superman movie to be directed by Zack Snyder.

Snyder stated, "Jonathan Kent is the only father figure Clark has ever had, the man who was there to help Clark understand what he was meant to do in the world as Superman. Kevin will be able to communicate the quiet strength of this rural American man who raised the greatest super hero of all time."

Costner will star alongside Diane Lane, who plays his wife, Martha, and the film's star, Henry Cavill, who will play the new Clark Kent/Superman.

Costner most recently starred in 2010's "The Company Men," and is currently in development on the comedy "The One." He has won two Academy Awards®, for producing and directing the epic "Dances with Wolves," also garnering a nomination for Best Actor. He has also starred in a wide range of memorable films, including "The Untouchables," "No Way Out," "Bull Durham," "Field of Dreams," "JFK," "The Bodyguard," "Wyatt Earp," "Tin Cup" and "Swing Vote," to name a few.

Charles Roven, Emma Thomas, Christopher Nolan and Deborah Snyder are the producers of the film. The screenplay is being written by David S. Goyer based on a story by Goyer and Nolan. Thomas Tull and Lloyd Phillips are serving as executive producers.

The new Superman movie will be distributed worldwide by Warner Bros. Pictures, a Warner Bros. Entertainment Company.
. . .
Follow Sean Gerski on Twitter at http://twitter.com/DoubleDown44.
And don't forget to "Like" It's Just Movies on Facebook at
http://www.facebook.com/itsjustmovies.