— by CHERRY BELL DAMASCO-FARRINGTON —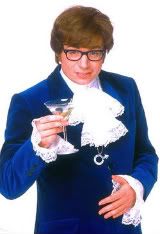 Remember when Mike Myers was really and truly funny? Growing up in the late '80s and early '90s, I'm familiar with his "SNL: Saturday Night Live" characters. My favorite was always "Wayne's World." With Myers and Dana Carvey in the lead roles, it was fun and, at times, I wondered where they got their inspirations for these characters.
But it's been a while since I've liked any of Mike Myers' live-action films. I've enjoyed the "Shrek" franchises — and even "The Cat In The Hat," but granted I do have a child, nieces and nephews who will enjoy that sort of thing. Alas, "The Love Guru" was a complete flop and for me (and perhaps every other female who was an *NSync fan back in the day), the highlight of that film was Justin Timberlake as Jacques Grande.
There has been talk of a fourth "Austin Powers" installment for a few years now, and last night it was confirmed by HitFix that Myers has officially jumped on board with a fourth film in the franchise.
There is no news of the plotline as of now and no director is attached as of yet. We've traveled to the stars with Dr. Evil in the Big Boy statue-rocket ship as he was cryogenically frozen, transported to the past to recover his mojo, seduced by Fembots, flash mobs/musical dance numbers (which really entertain me actually, because seriously, who wouldn't want a random dance number break out in public) and he's a James Bond of some sort that snags the hot chicks. What will Myers have up his sleeve for this film that's taken years to develop?
Without a live-action hit in "The Love Guru" and with two successful franchises to revisit, Austin Powers finally has his chance to possibly bring Myers back into the game or dig him a deeper hole to get out of. Let's hope it's the latter and the film is successful. We'll keep digging on the subject and we'll see where Myers takes us.
. . .
Follow Cherry Bell Damasco-Farrington on Twitter at https://twitter.com/cbdamasco.
And don't forget to "Like" It's Just Movies on Facebook at
http://www.facebook.com/itsjustmovies.