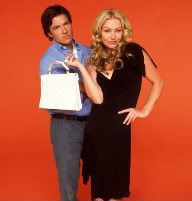 Practically ever since "Arrested Development" ended its three-season run on FOX in 2006, the cast and crew have kept the rumor mill churning about a possible big screen continuation. Now after more than five years, fans finally have some concrete news that the series will get another go, at least in some form.
Any "Arrested" fans who considered canceling their Netflix subscriptions following the price hike fiasco may want to think again. The streaming and DVD service has announced it will air new episodes of the cult favorite in 2013. Showtime and Hulu were also reportedly contenders before the show ultimately went to Netflix.
But beyond the news that the Bluths will return for some new adventures, few other details are known at this point. Twentieth Century Fox and Imagine Television will produce, but the number of episodes that will air and which cast members will return haven't been confirmed.
At the New Yorker Festival in October, creator Mitchell Hurwitz announced his intention to produce nine or 10 new "Arrested Development" episodes to serve as a bridge between the end of the series and the long-discussed movie, each episode focusing on a different Bluth. All of the members of the Bluth clan — Jason Bateman, Will Arnett, Portia DeRossi, David Cross, Tony Hale, Jeffrey Tambor, Jessica Walter, Michael Cera and Alia Shawkat — were on hand at the festival to voice their support for the project, but no contracts have been signed yet.
In a press release announcing the Netflix-"Arrested Development" partnership, producer and narrator Ron Howard said, "After a long hiatus, I'm dying to finally get back to the narrator's microphone. Of all the projects we've been involved with over the years, we probably get more questions about Mitch Hurtwitz's brilliant 'Arrested Development' than any other — everyone, ourselves included, seems to feel like the Bluths left the party a bit too soon. Bringing a series back from cancellation almost never happens, but then, 'Arrested' always was about as unconventional as they get, so it seems totally appropriate that this show that broke the mold is smashing it to pieces once again."
The announcement of the show's Internet resurrection also offered no further details about the movie, but for "Arrested" fans, it's a development worthy of a celebratory chicken dance.
. . .
Follow Alexa Milan on Twitter at http://twitter.com/alexamilan.
And don't forget to "Like" It's Just Movies on Facebook at
http://www.facebook.com/itsjustmovies.