Just earlier today, we reported that principal photography has begun on Christopher Nolan's Batman finale "The Dark Knight Rises." But that wasn't all the Batman-related news we would get — we now have the first official image of Tom Hardy as Bane.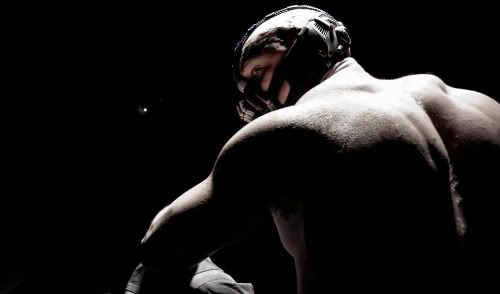 This image was released on the official website for TDKR, but when you go there you will just see a black screen and hear people chanting … something. For those of you who might think something is wrong with the site, you should remember whose movie we're talking about – Christopher Nolan (a very secretive film-maker). So the site will probably be updated with hints on what the movie will be about and more.
But for now, let's talk about Bane. This image makes it so much easier for me to forget the horrible version of Bane in a movie-that-should-not-be-called-by-name. I was convinced a long time ago when Bane was officially announced that Nolan would definitely do this character justice (something that Joel Schumacher could not accomplish) and at least make him intelligent AND strong. But the appearance was always a concern for me — I wondered whether he would wear the famous mask or at least some sort of realistic version of it.
This mask looks awesome and also looks like something that will fit naturally into Nolan's world – also from what I can see and have seen, it looks like Bane will possibly appear similar to how he does in the comics, minus the mask and all the equipment he wears. With this image, I feel 100 percent convinced that Tom Hardy will break some backs. I'm very much looking forward to seeing him in action.
"The Dark Knight Rises" hits theaters on July 20, 2012.
. . .
Follow Andy Behbakht on Twitter at http://twitter.com/Haoh93.
And don't forget to "Like" It's Just Movies on Facebook at
http://www.facebook.com/itsjustmovies.