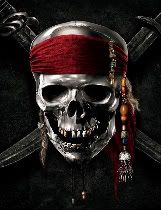 No films in the Disney catalog have garnered more revenue than the "Pirates of the Caribbean" franchise. Originally set to end as a trilogy, Disney couldn't let go of this cash cow and shortly after the third film was released, it was announced that there would be more. With the fourth movie filmed and wrapping up post production, there are already talks about more to come. Is Disney banking too highly on the success of the earlier films to be investing in more when the third movie "Pirates of the Caribbean: At World's End' was bashed by critics and fans alike?
In "Pirates of the Caribbean: On Stranger Tides," we meet up with Captain Jack Sparrow (Johnny Depp) who is on a quest to find the fountain of youth. We have seen in the movie's trailer that Depp has a run-in with the infamous pirate Blackbeard (Ian McShane) — that's his boat in the right hand corner of the poster — and Captain Jack also has a mission to go through mermaid infested waters and this poster is filled with them, too.
I know this is just one of many posters that will come out, but I am surprised that more elements of the story are not involved in it. For instance, there are no other characters in it besides Jack Sparrow and no reference at all to the fountain of youth, the zombie horde or even Angelica (Penelope Cruz). I'm hopeful Disney will take a hint from all of the recent posters for Zack Snyder's upcoming "Sucker Punch" and release a flurry of character posters, with the most recent ones being single character posters that combine to make one grand panoramic scene.
So what do you think of this first official poster from "Pirates of the Caribbean: On Stranger Tides"? Is it all that you hoped for or lacking certain originality in its design? This fourth film will be the first one in the series to be released in 3D and with that new development, we would hope for some more firsts in its promotional material. Sound off in the comment section and let me know what you hope to see from the designers at Disney for the remainder of this movie's posters?
. . .
Follow Adam Poynter on Twitter at http://twitter.com/CCWGGuy.
And don't forget to "Like" It's Just Movies on Facebook at
http://www.facebook.com/itsjustmovies.