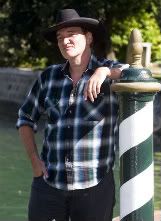 He's tackled gangster films, samurai action and historical epics and now … spaghetti westerns? It looks like that's the genre director Quentin Tarantino will tackle next, according to details revealed during the weekend about his next project.
Tarantino gained Oscar attention with his 2009 film "Inglourious Basterds," and his next project has almost as intriguing of a name: "Django Unchained," according to a photo that was tweeted by a user with the handle @AgentTrainee (see it below). Slashfilm first reported the news last weekend, and it was confirmed by IndieWire.
The film will reportedly star "Inglourious Basterds" Oscar winner Christoph Waltz, Keith Carradine, Treat Williams and Franco Nero, who also starred in a spaghetti western called "Django" in 1966. IndieWire reports "Django Unchained" is inspired by the 1966 film and the 2007 Japanese film "Sukiyaki Western Django," which featured none other than Tarantino himself.
Deadline reports "Django Unchained" will be distributed by The Weinstein Company and could shoot as early as this summer. IndieWire offers the following plot synopsis:
Django is a freed slave, who, under the tutelage of a German bounty hunter (Christopher Waltz) becomes a bad-ass bounty hunter himself, and after assisting Waltz in taking down some bad guys for profit, is helped by Waltz in tracking down his slave wife and liberating her from an evil plantation owner. And that doesn't even half begin to cover it! This film deals with racism as I've rarely seen it handled in a Hollywood film. While it's 100 percent pure popcorn and revenge flick, it is pure genius in the way it takes on the evil slave owning south. Think of what he did with the Nazis in Inglorious and you'll get a sense of what he's doing with slave owners and slave overseers in this one.
The site also found an older quote from Tarantino about his desire to make a western:
"I'd like to do a Western. But rather than set it in Texas, have it in slavery times. With that subject that everybody is afraid to deal with. Let's shine that light on ourselves. You could do a ponderous history lesson of slaves escaping on the Underground Railroad. Or, you could make a movie that would be exciting. Do it as an adventure. A spaghetti Western that takes place during that time. And I would call it 'A Southern.'.. I want to do movies that deal with America's horrible past with slavery and stuff but do them like spaghetti westerns, not like big issue movies. I want to do them like they're genre films, but they deal with everything that America has never dealt with because it's ashamed of it, and other countries don't really deal with because they don't feel they have the right to."
I'm in the minority in that I'm completely indifferent to this news. I have never been a fan of Tarantino, and "Django Unchained" doesn't sound like anything that's going to convert me into one. But for those who do love Tarantino's work, the new details about his next project must come as a welcome announcement.
What do you think? Are you excited about "Django Unchained?" Sound off in the comments section.
. . .
Follow Alexa Milan on Twitter at http://twitter.com/alexamilan.
And don't forget to "Like" It's Just Movies on Facebook at
http://www.facebook.com/itsjustmovies.