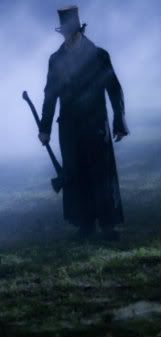 In case you have never heard of him, Seth Grahame-Smith is an author who quickly is becoming sought-after as a screenwriter. With his first mash-up hit, "Pride and Prejudice and Zombies," becoming a hit after its release in 2009, its no surprise that he soon had another novel that mixed two completely unrelated concepts together with 2010's "Abraham Lincoln: Vampire Hunter."
Only two years after the book's release, the film adaptation is already hitting the big screen, and the fact that Tim Burton and "Wanted" director Timur Bekmambetov purchased the film rights before the book was even out shows that they had faith in the concept. With Burton producing, Bekmambetov directing and the novel's author writing the screenplay, there are many who have passion and have wanted to see this story realized onscreen.
One of our nation's greatest presidents, and a true American hero, Abraham Lincoln is known for his many great works, but did you know he had a secret night-time occupation that he held nearly as much passion for as he did the unification for our country? If you're reading this review, then you probably already know what it is: vampire hunting.
When a very young Abraham Lincoln witnesses his mother's death due to a vampire, he is shocked and in disbelief. He promises his father he won't retaliate and is only freed from that promise upon his father's passing years later. He tracks down the responsible vampire, Jack Barts (Marton Csokas), and is nearly killed during the battle. But thanks to a mysterious stranger named Henry Sturgess (Dominic Cooper), he is saved. Henry informs him that that there are vampires everywhere, and they have infiltrated every aspect of America and the world. Henry takes it upon himself to train Lincoln in everything vampires, including how to hunt down and kill them.
With a silver-coated axe — vampires have a weakness to silver — Henry trains Abraham and then sends him off into society, and occasionally notifies him of any nearby vampires to kill. With everything that he must give up, Abe is told he cannot have friends, family or love, but this doesn't stop him from catching the eye of a young Mary Todd (Mary Elizabeth Winstead), with whom he becomes romantically involved.
When his secret nightly outings draw the attention of a very old and powerful vampire named Adam (Rufus Sewell), things became far more dangerous for Abraham and his family. He also learns that the vampires are buying up slaves, not as a labor force but as a food source, and he focuses on his political career and becoming the leader of the abolitionist movement.
Years pass and his nightly escapades fade into the back of his mind as he looks towards a future in politics. Aided by his childhood friend Will Johnson (Anthony Mackie) and shop-owner-turned-political-sidekick Joshua Speed (Jimmi Simpson), Abraham's future seems positively endless when he makes it to the top as the leader of the free world, the 16th president of the United States. As a president, he is challenged with making decisions that cost many young men's lives every day as the Civil War rages on. Unknown to Lincoln, the maniacal Adam has aligned himself and his vampire hordes with the South in hopes of conquering the North and eventually enslaving all humankind. But when tragedy befalls his son and he knows vampires are involved, Lincoln must finish what he started and once again picks up his ax as he goes to war against Adam and his forces.
As ridiculous as all of this sounds, "Abraham Lincoln: Vampire Hunter" is a stylish, fun and outlandish take on one of our most beloved presidents as he gets down and dirty and kicks some serious butt. You must go into this movie with an open mind and just enjoy the ride. It's not exactly a film that will acquire cult classic status, but is bound to garner the attentions of genre enthusiasts and those looking to have fun. Starting off with a more straight tone, the movie mixes genuine emotion with horror elements that blend together and it works because it doesn't take itself too seriously. "Abraham Lincoln: Vampire Hunter" is an aggressive, in-your-face action film that was thrilling to watch and an experience in itself.
Benjamin Walker is perfectly cast as Abraham Lincoln. It is very strange how in his younger state he is a near carbon copy of a young Liam Neeson. But, as soon as he ages, grows the bead and puts on the infamous top hat, Walker becomes an exact doppelganger of our beloved president and he pulls off every aspect of the character and plays the straight moments just as well as the major action set pieces. He has the intensity needed to show how much he hates the vampires, but also the devoted and mild mannered persona to make us believe he is the president.
Dominic Cooper is intriguing and intense as his trainer, mentor and friend, and Lincoln's two sidekicks, played by Mackie and Simpson, offer up great performances and some comedic relief as well. Mary Elizabeth Winstead has a smaller role as the first lady, but does convey her passions and emotions in those few scenes she is in. Rufus Sewell as Adam is frightening and offers up a smart and methodical villain for us to hate.
The design of the film — including how the action unfolds as well as the set and clothes –is top notch and really sells the reality of the time. There are three major action scenes that stood out to me as especially impressive: Abraham faces off against a large group of vampires in a majestic plantation; an outrageously fun chase scene in the middle of a horse stampede in which entire horses are thrown and used as weapons; and, of course, the film's finale, a battle on the train as it crosses a wood bridge that is set ablaze and about to collapse. Everything about the visuals were pleasing and fun – except a few unconvincing actors in old-age makeup – and made to be immersive and in your face with the 3D. The director and design team did a stellar job of making this movie come to life.
If you can accept the concept that our past president was a vampire killer and just be entertained and have fun with the movie, you will truly enjoy it. It's definitely not going to be for everyone — there is a lot of stylized blood and gore – but it is sure to please fans of the actors, director and the book. It is a true genre film that seamlessly weaves from history, through emotional anguish, thrilling moments and even some great laughs as well.
"Abraham Lincoln: Vampire Hunter" – which also stars Joseph Mawle, Robin McLeavy, Erin Wasson, John Rothman and Alan Tudyk — is in theaters now and is rated R for violence throughout and brief sexuality.
. . .
"Like" It's Just Movies on Facebook at http://www.facebook.com/itsjustmovies.