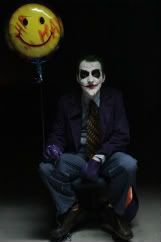 Have you played "Batman: Arkham Asylum" — one of the most incredible games ever made — and thought about how the game would look if you were seeing it in live action? Well, now you can.
A team called ENSO Production, a group of incredible stunt people, made as amazing short film featuring the Dark Knight versus his nemesis, The Joker, and not only do we follow this incredible adventure, we get to witness stunt choreography that makes the fights looks like that you are playing "Arkham Asylum" … but in real life.
Before I discuss my thoughts of the film, here is the official description released by ENSO on YouTube:
"BATMAN: The Last Laugh" is a high-intensity, action-packed fan film that was created in the partnership of ENSO Productions and Gotham City FX. See how The Joker and Batman go head to head in this fan film like no other. Check out ENSOproductions.com to visit the production/ stunt team that put it all together and www.gothamcity-fx.com to see all the props that made this project come to life.
Before we go any further, check out the short film below:
http://www.youtube.com/watch?v=8x61he__K2I
Now, where should I start? I'll go with the props first — the bat pod was very well made, even though it was a bit slower than the one in "The Dark Knight." This is actually the first fan-made Bat Pod I have seen. Then there are the costume designs — the Joker goons looked almost exactly like the ones that you got to fight in the video game. I think the design of the Joker looked incredibly scary and almost as intimidating as Heath Ledger's Joker, the only difference was that the eyes were covered too much with makeup so there were times when you almost didn't see that there were eyes there, just black squares. But perhaps it was supposed to be like that – to make it look more intimidating. The Bat-suit, well that was perhaps one of the most well-done fan-made suits I have seen so far. So good job on that.
And let's not forget the incredible fight sequences – what I would give up to be able to move like that, if I ever decide to start getting as physical as them, I know where to turn to for help. The story that they had, was so great that by the end of the video, it made you want more.
The last time, I saw a good fan-made Batman movie was "City of Scars" by Bat in the Sun and "Last Laugh" has definitely become one of my new favorites — great job by ENSO and, hopefully, we might get to see some more fan videos of Batman from ENSO.
If you want to see more videos by ENSO, visit http://www.ensoproductions.com/Ensoproductions.com/Home.html.
. . .
Follow Andy Behbakht on Twitter at http://twitter.com/Haoh93.
And don't forget to "Like" It's Just Movies on Facebook at
http://www.facebook.com/itsjustmovies.